Agetec Rally Wheel
Wheel of Fortune it Ain't - Review By Fragmaster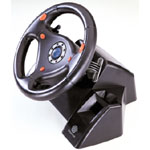 Since Sega isn't marketing their own steering wheel in North America, we'll have to settle for what the third parties have to offer. One of the steering wheels currently on the market is the Agetec Rally Wheel, which has been "approved" by Sega. Here's what the company has to say about it:
Licensed and approved by Sega, heavy duty metal base for great stability, analog control, and cool high performance style brake and accelerator controls.
And here's what we have to say about it:
The Good
When placed on a desk, the wheel stays in place pretty nicely. The A and B buttons are placed well, towards the middle of the wheel within easy reach, yet hard to brush against accidentally. The VMU port is conveniently located.

And amazingly enough, the Rally Wheel also looks somewhat like a steering wheel. Imagine that.
The Bad
First of all, the Rally Wheel looks and feels like cheap plastic. That's probably because the entire thing is made out of… cheap plastic! I'm surprised there wasn't a "Made of 100% Cheap Recycled Plastic From 2-Liter Diet Coke Bottles" tag on the bottom. Actually, that's not entirely true… the base is made of metal and I'm sure some internal parts aren't plastic, but you probably get the point: it's basically a big hunk of cheap plastic.

The wheel itself is pretty cheesy. It actually feels a little loose when you yank on it a little. Hmmm… that sentence would probably sound odd when taken out of context. Anyway, the other main problem with the wheel is that it doesn't register subtle movement, you have to crank it about half an inch or so to get any response. Crank it too much and you'll spin into the wall. I tested this wheel with Hydro Thunder and Flag to Flag, and the control in both games was actually more responsive and precise with the standard Dreamcast controller.

As for button placement, the triggers are placed behind the wheel and slightly towards the top. That's fine since that's where your hands will normally be, but it's pretty much the same as holding down the triggers on the regular DC controller, only a little bit less comfortable due to the Rally Wheel's grips.

At least I can't complain about the pedals, because there aren't any. The real mystery here is figuring out what the "+" and the "-" buttons do, because there are no plus and minus keys on the Dreamcast. Can you guess what they do? No? Well, then I'll just have to go ahead and tell you: Absolutely nothing! Well, with most games, at least. Did they have a bunch of leftover orange buttons from a batch of unsold calculators and think it would be fun if they stuck them on a racing wheel for the Dreamcast? So we could do our taxes while speeding down the straight-aways? PLEASE! I bought this wheel to race cars, not add up how many cans of Coke I've drunk, while subtracting the number of days left until Sega Bass Fishing comes out. Anyways, these buttons only work with games that support the "race controller," and right now that's just Flag to Flag. Why they didn't just make it so you could use plus and minus like X or Y buttons is beyond me.

Making menu selections with the wheel can be a pain; the inclusion of a D-Pad for doing things like that would have been nice. It probably wouldn't be so awkward if the wheel had better sensitivity, though.

Also, this wheel slides around quite a bit on most carpeting. That's a nitpick, as most people would find sitting on the floor with a steering wheel pretty uncomfortable and most other wheels probably do the exact same thing, but still. Maybe if it were a little heavier it wouldn't move around so much.
The Final Word
Why would you buy a steering wheel that offers little advantage (if any) over the standard Dreamcast controller? In theory, steering wheels are supposed to give you better control in racing-type games, and they certainly look cooler and heighten the immersion factor. But the Agetec Rally Wheel not only handles poorly, it also screws up by adding plus and minus buttons to the mix, possibly making it useless with future racing games (and current ones too) that don't specifically support the wheel. That's a pretty big mistake, and so is buying this wheel. Unless you plan on spending a ton of time on Flag to Flag and can put up with its flaws, the regular controller should be fine and dandy.
Manufacturer: Agetec
Retail Price: $49.99
Best Caution Notice in Instructions: "Do not hit, kick, or jar the Rally Wheel, as you may damage it."

Highs: Stays on your desk, good A and B button placement, good VMU port placement, it's round.

Lows: Looks and feels cheap, wheel doesn't register subtle movement, X and Y buttons are ommitted in some games, making menu selections is awkward, not heavy enough. Overall control is much better with a regular Dreamcast pad.

Other: Works with most racing games that don't support the wheel, but you lose your X and Y buttons. Don't try using it with something like NFL Blitz (we did, and trust us, it just doesn't work).

Final Score:

(out of a possible 10)
Go To Our Dreamcast Controllers Page
Comments on this review? Mail Feedback.