Looney Tunes Space Race
The best kart racer you can buy for 30 bucks - Review By digitaltaco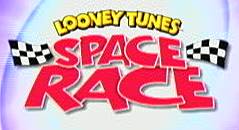 I can remember the first time I heard about Nintendo's Super Mario Kart. I was reading an issue of Nintendo Power thinking, "My God... What a stupid idea. Mario Kart is just a way to cash in on the Mario franchise with another lame game." And a few months later, I actually played it. All the ill will I felt towards the game quickly faded. Combining cute characters and graphics, sharp gameplay, and an arsenal of creative weapons, the game felt like the perfect mixture of the driving and action genres. It was clearly not only a good game, but also one that would inspire many followers as gaming moved forward.
And move forward it did, eventually getting its fair share of rip-offs, clones, and sequels. Almost every major cartoon or videogame franchise has a kart racer under its belt. But we've yet to really see a "next-gen" kart racer. There hasn't been a game that has pushed the genre in terms of graphics, sound, and gameplay to the extent that we know is possible on the powerful new systems. Well, we haven't seen one yet. But today, I'll take you through the wonderful world of Looney Tunes Space Race. While it may not be revolutionary in every conceivable way, it is fresh enough to warrant a look. Read on and find out why.
The Good

That spring-loaded boxing glove never gets old.

What is Looney Tunes Space Race? It's basically a standard kart racer featuring racers and locales from the Looney Tunes cartoon series we grew up watching on TV. Courses are littered with weaponry seemingly pulled straight from the ACME factory and attached to your vehicle. Raining destruction on the other drivers is very easy when you've got a homing elephant to drop on their head. That's right! You'll have access to an entire arsenal of Looney Tunes favorites such as the falling anvil, the portable hole, and even falling pianos. Watch out for the enemy's weapons and race around the track a designated number of times. Of course, sure to come in first place. Seems like standard kart-racing gameplay, does it not? Yep, I'm afraid so. So what makes LTSR better than the average kart racer?

First, Looney Tunes Space Race is a very solid title in terms of overall gameplay. The game is structured around a type of point system. When the player finishes a race in first place, points are awarded. The more difficult the race, the more points are received. These points are then used to "buy" special extras like new characters, tracks, and artwork. Occasionally, another character will challenge the player to a one-on-one race. Finish in first and more points are added to the total. Also, finishing certain races unlocks more tracks to play on. This point system works very well and gives the player enough incentive to want to unlock everything. In addition, the title supports multiplayer racing for up to four players via split-screen. Invite your friends over and shoot them with your ray gun. If you thought the game was fun in single player, multiplayer will have you rolling.

In addition, LTSR controls superbly. This shouldn't come as a surprise, as most kart racers have decent control. But it is safe to say that this title definitely follows the standards set by its brothers. While at first controlling your ship may feel a bit floaty, the realization that you are flying a rocket will eventually come. Hence, floaty control is pretty acceptable, being that rockets do float.


The weather is cold and clear, with a high chance of deadly, deadly lightning storms.

Catch my drift? Really, after getting the hang of it, I was very pleased with the control. After a few minutes, you'll be breezing around the tracks like nobody's business. And that leads us to...

...the tracks! I really began to enjoy the track design after a few hours of play. When I began to play, I found the courses to be a bit on the easy side and also not too interesting visually. But after progressing through the game a bit, not only did the courses become more difficult, but I also began to notice much nicer trackside detail and an overall more impressive look and feel. As you make progress, you'll also notice that the turns become more frequent, and the tracks begin to be sprinkled with branching paths. The gameplay is much more fulfilling in later levels, so be sure to advance through the first couple races before judging for yourself.

Oh, did I mention how beautiful the tracks look thanks to the use of cel-shaded graphics? Every since I saw this technique used in Jet Grind Radio, I've only wanted to see more. LTSP is the first game I've played that uses cel shading since JGR (though Wacky Races and Sonic Shuffle also use the technique). Cel shading is perfect for creating a 2D, hand-drawn cartoon look out of conventional 3D polygons, and thus works wonders in Space Race. Every character is crisp and clear with a nice black outline that seems to remove them from the world of three-dimensions and thrust them back onto the piece of paper where they were created. The environments, too, look hand-drawn and benefit greatly from said technique. The textures are crisp, clean, and detailed and are put to use almost perfectly. Whether in space or in the ACME factory, you'll be racing through a cartoon world. It's so impressive that you may forget you're playing a game altogether and find yourself awaiting the next commercial break. I'm serious when I say that this is a fantastic looking game.
Next: More Good, The Bad, and The Final Word