Marvel vs. Capcom
Let's Go Crazy! - Review By Kestrel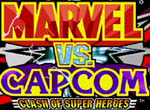 Several years ago, Capcom decided to combine two of their hottest games, Street Fighter Alpha 2 and X-Men: Children of the Atom, and pumped it full of hyper speed, massive powers, insane combos, and a new twist to the fighting genre, tag-teams. Now, players could set up dream matches between Earth's greatest fighters and their mightiest superheroes. Thus, X-Men vs. Street Fighter was born and it was an instant hit.
Now, years later, Capcom has followed up XMvSF with two sequels, Marvel vs. Street Fighter and Marvel vs. Capcom, each a hit in the arcades. Until now, if you wanted to play any of these games at home, you had to either settle for the dreadful Playstation ports or have the games imported from Japan for the Saturn, but no more. Capcom has finally brought an arcade perfect port of one of its famed Vs. series games to a US system so now you can finally enjoy all of its butt-kicking goodness at home, and in English no less (wouldn't want to miss out on that witty post-match banter, after all).
The Good

Ryu vs. Wolverine? Strider vs. Spider-Man? Awww yeah!

Once again, Capcom has proven why they are truly the kings of the 2D fighter. Not only is the gameplay and control top-notch, but MvC also has some of the most vivid and detailed graphics of any game in the 2D genre. Spiderman and Captain America look like they've just jumped out of an issue of The Avengers and Ryu and Chun-Li look better than ever before. Plus there's plenty of new characters from classic Capcom games to choose from like Strider, Mega Man, Morrigan from DarkStalkers fame and even Capcom's old company mascot, Captain Commando (remember him?), as well as a new face from Marvel Comics, Venom. The backgrounds are wonderfully rendered settings from both comic book and classic video game fame and each one has plenty of tiny details and background animations, everything from Dr. Wily screaming orders through a megaphone to some nekkid guy toweling off in a Japanese bathhouse (I could've lived without that last one). Speaking of animations, every frame that appeared in the arcade appears in the Dreamcast version, so all of the characters' movement is silky smooth and flawless. Capcom really has delivered an arcade perfect port with this game.

Not content with letting a great series stagnate, Capcom has added some new features to MvC to liven things up. As I'm sure you're probably aware, Capcom innovated the tag-team for XMvSF and MvSF, allowing you to choose two characters to fight with and tag them in and out of play at any time. Now, they've added to this with the concept of guest characters in MvC. At the beginning of each round, you're randomly assigned (not so random if you know the trick) a third character that you can call in for support adding another small element of strategy. Another new feature, exclusive to the Dreamcast version, is the 4-player Cross Fever Mode. In this mode, you and three friends pair into teams, each of you chooses a character, and then you square off in versus-style match play. But now, when you switch out your on-screen character you also switch control over to your real-life teammate truly making this a tag-team game. The action really gets crazy as both teams switch into a Variable Cross Attack, where everyone fights onscreen simultaneously with unlimited super powers. Cross Fever Mode is a lot of fun at parties and really is a nice feature for Capcom to add.
The Bad

Guest characters are an interesting addition to your typical 2D fighter.

Not a whole lot to gripe about with MvC. The biggest complaint is that the game is really tough to play on the Standard Dreamcast controller. The pads just aren't set up very well for the combo crazy style gameplay of MvC. This, of course, is no fault of Capcom's since they have no control over what kind of controller Sega makes, but thankfully you have some alternative choices. If you plan on spending a lot of time with this game, you might want to think about investing in some 6-button controllers like Agetec's Arcade Stick or MadCatz's Dream Pad. These will really help you to kick out the long combos and will greatly enhance your playing experience.

The only other ill thing I have to say about MvC is that the single player mode gets a little old after a while, but when has that ever not been true of a fighting game? While the enemy AI is good, it just isn't as much fun to play against than a live opponent would be. This is a game really meant to be played with friends, so grab a few and settle in for some great versus play. If you don't have any friends, get some. Just let folks know you have a Dreamcast, and they'll come crawling out of the woodwork, trust me.


The graphics are pretty good, although the game does look a bit dated.

Oh, and if you're looking for a pure Street Fighter clone, keep looking because this game is definitely not it. The gameplay is far more hectic and much more crazy than the standard SF fare. If you're a Street Fighter purist, you might want to wait around for Street Fighter Alpha 3 or Street Fighter 3: Double Impact to hit the DC. Still, you might want to give MvC a shot, it just might win you over.
The Final Word
If you're a fan of the Capcom Vs. series and you own a Dreamcast, you owe it to yourself to go pick up a copy of this game. Just be sure and pick up an Agetec Arcade Stick or MadCatz Dream Pad while you're at it, you'll thank me later. Then, grab a bunch of your friends and get set for a night of fun. Now, if Capcom could only make a Justice League of America vs. Street Fighter…

Editor's comments: One thing I've noticed about Marvel versus Capcom is that the people who played the game in the arcades love it, but the people who haven't played a 2D fighter since Street Fighter II play it for about two minutes before saying "Bah, this sucks, let's play Soul Calibur." Marvel versus Capcom's graphics can't compare to Soul Calibur's and its gameplay certainly isn't anything new, especially compared to Capcom's other DC offering, Power Stone. In other words, it's hard to go back to 2D fighting on the Dreamcast after playing some of the aforementioned offerings, and you may want to pass on Marvel versus Capcom unless you're already a fan of the game or can't get enough of Capcom's newer 2D fighters.
Developer: Capcom
Publisher: Capcom
Genre: Fighting

Highs: Arcade perfect port, great graphics and animations, 4-player Cross Fever Mode.

Lows: Hard to play on a standard controller, single player gets old after a while.

Other: 1-4 Players, VMU Compatible (for saving option settings), Arcade Stick Compatible, Jump Pack Compatible.

Final Score:

(out of a possible 10)
Visit this Game's Dreamcast Database Entry
Comments on this review? Mail Feedback.