Dreamcast 2000
A look at the upcoming games and products for the Sega Dreamcast - By Fragmaster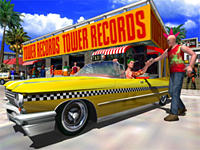 Crazy Taxi

Just five short months ago, Sega launched the Dreamcast in North America. Other than some early manufacturing glitches, the system was very well received. Many consider the launch of the Dreamcast to be the most successful launch of a new console system yet, its sales numbers surpassing even Sega's ambitious expectations.

While the Dreamcast is currently the most powerful videogame system on the market, many people forget that it had sold in Japan for nearly a year prior to its North American debut. With the Playstation2 on the horizon and questionable third-party support (industry juggernaut Electronic Arts has failed to support the system), some predicted that the Dreamcast would flop even harder than Sega's previous platform, the Sega Saturn. Now, with over one million systems sold in North America alone, it's easy to see that it's a strong contender in the console wars.

But does the Dreamcast have what it takes to be champ? With the Playstation2 coming stateside later this year, on paper, the Dreamcast's chances don't look too good. The Playstation2 offers more advanced technology, DVD compatibility, backwards compatibility with the best-selling home videogame system of all time, strong third party support, and the backing of the mighty Sony. On the other hand, the Dreamcast is much easier to develop for, has a one-year head start, and comes with a modem.

All consoles are eventually surpassed by superior technology, and Sega knows it can't hope to compete on some levels with the systems of the future, but they can create a unique, solid, less expensive, and competitive alternative to these super-systems. Sega hopes to do this by creating a diverse, quality library of titles and to capitalize on the new possibilities provided by online, multiplayer gaming and entertainment.

Sega plans to keep Dreamcast fans happy with great games. Within the next few months we'll see the release of Resident Evil: Code Veronica, Crazy Taxi, Ecco the Dolphin, Dead or Alive 2, NHL2K, Fur Fighters, Sega GT, Rayman 2, and MDK 2. By the end of the year we'll see games with multiplayer capabilities, stuff like Sonic Team's Chu Chu Rocket, Baldur's Gate, Armada 2, Phantasy Star Online, Frontier (from the makers of Asheron's Call), and Half-Life.



Dead or Alive 2

While Sega's multiplayer network in Japan is somewhat successful, it's a lot easier to do that in Japan than in the United States and Europe. Even the NES (Famicom) was supported by an online network in Japan, something even mighty Nintendo in its prime was unable to duplicate stateside. Whether or not Sega can deliver on their promises of online gaming remains to be seen. Details and exact dates are sketchy at the moment, but firmer plans should be made public soon. The network will mostly likely be rolled out in phases. Currently, you can surf the web and download new stuff to your VMU. Next you'll probably be able to play games like checkers and cards against other players and maybe play point-to-point or turn-based games with titles that support the network. Later, the big multiplayer games like Frontier, Phantasy Star Online, Half-Life, Armada 2, and Baldur's Gate will come out, along with entertainment and e-commerce offerings, and then beyond that... who knows. Some speculate that Sega has already lost their window of opportunity, and that their dawdling has cost them their chance to become a leader in the field.

Besides publishing new games and launching a network, Sega plans to increase the Dreamcast's life span through a variety of add-ons and expansions. A zip drive expansion is scheduled to be released next quarter, which will allow Dreamcast users to store MP3's downloaded from the Internet along with new game content and e-mail. An Ethernet card replacement for the skimpy 56K modem and a DVD add-on are also in the works.

The next six months are crucial for the future of the Dreamcast. If Sega sits on their hands and fails to deliver what they've promised, then the system will almost surely be stomped by the Playstation2 and abandoned en masse before it reaches its full potential. If all the pieces of the puzzle fall into place, then the Dreamcast's future is relatively bright. Sega has already surprised a lot of people and rebounded from some gigantic mishaps. Do they have what it takes to make their vision a reality? Only time will tell.

Comments on this feature? Mail Feedback.