Bring Back the Classics!
"And I don't mean Sonic!" - Editorial By Prophet
It's time for some tough love. Sega has been transitioning itself as a software developer and moving away from the business of developing console hardware. So far they've made a good start on the Xbox, PS2 and even the PC. But in any business it's always about money and it is my opinion that they are not utilizing their franchises to their maximum potential. I am of course referring to the massive back catalog of classic franchises which they have abandoned by the wayside like a third world mother does to a child when there's no more food left in the village.
Instead of bringing us new Phantasy Star games they give us a real-time MMORPG called Phantasy Star Online. Instead of Space Harrier we get a game for the GameCube about a monkey trapped in a bubble called Super Monkey Ball. And instead of Out Run we get Crazy Taxi. Mind you all of the games I mention are excellent, my point is they are letting the classics flounder for absolutely no reason.
They have access to the Gameboy Advance, The GameCube, The PlayStation 2, The Xbox, the PC, hell -- they could even publish games on the Mac. My point is that even if they didn't want to make new games for these (and many other franchises) they could bring back classics to the any one of these systems. And they would sell. The Sega Smash packs were a good start but just a mere morsel.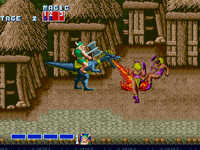 The question is would you buy a Phantasy Star Compilation on the GBA? Shining Force 1-3 ? Space Harrier? I know that I would and I am not alone. How hard can it be to port these small games (by today's standards at least) to these portable console systems? Maybe Iím speaking out about something I donít know too much about, but I donít believe itís as difficult as developing a new game from scratch. Why is it that Square can bring back Chrono Trigger and Final Fantasy to the PlayStation, but Sega can't bring us anything from the past except Sonic? Maybe it's because they think we've forgotten all those games or maybe they don't think they'll make money off of a system like the Gameboy Color or the Gameboy Advance. Well here's a news flash for you. Nintendo & THQ (two of the top GBC/GBA software developers in the world) made more money on software for these systems than any other. Sure Nintendo had the Pokemon franchise, but Phantasy Star is a very powerful brand. And while i'm talking smack, haven't we all had enough of Sonic? I say screw Sonic and bring on Alys!
And if they donít feel like wading through old code then they can make sequels. I would buy Phantasy Star V, Shining Force 4, OutRun on the Xbox, Space Harrier on the GameCube, Wonder Boy on the PS2 and anything in between in a heartbeat -- without any qualms or reservationsÖ.
So to wrap this little rant up, I think Sega is making a big mistake in not building on the massive stable of fun games they already have. Hopefully someone in Japan or America will wake up and smell the Java. And if that happens I have only one other piece of advice: bring us (in the US) the second chapter of Shining Force 3. Thanks for listening.



Essential Links