Sex On the Pioneer
"Hey baby... What kind of sex organs do you have?" - Editorial By Mr. Domino

Dad always said being a girl was a lot like riding a horse -- it's all fun and games until the horse dies and gets turned into glue. Assuming I had a father and assuming he actually mumbled those words wherever he's lying homeless with that beer breath of his, I'd say he's right.
As most everyone with a Dreamcast knows by now, Phantasy Star Online is a very phun and very addictive on-line RPG from Sega. Unlike most other games, this is not due to any such barbaric concepts of gameplay or skill, but, rather, being able to create a character and exist through that character in an alternate world. Computer users have long since known the fun which can be had with avatars, but us console newbies are, well, new to the stuff. Avatars help add an extra dimension to static chat screens, and the way the chat rooms seem alive in Phantasy Star Online makes it all the more exciting and real.
I'm Laura, a cute young girl wearing thigh-high boots, a short skirt, and a long ponytail. Okay, maybe it's not so real after all. I made Laura because 1) I like cute girls and 2) I could make a cute girl. This is why I pick Morrigan in Vampire Savior or that blond girl with breasts for brains in Zombie Revenge, even though I can play better with Victor or Shaft. Choosing a girl to play as in Phantasy Star Online seemed like a natural move for me. How wrong I was.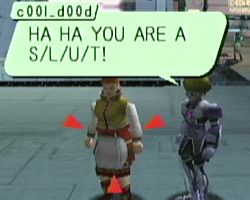 Being a girl on-line is basically a license to be harassed.
"r u a real girl?"
"what's ur sign?"
"The word of the day is legs. Spread the word."
"Marry me, Laura!"
"Those must be like DD mags heh heh"
Now, there's definitely some sick stuff going on in Phantasy Star Online. One look at the Hunter's Guild and the deposit clerks will confirm that. Still, the amount of simply desparate guys out there is sickening. Each and every time I logged on, I would get tons of attention just because I had chosen a female character and used a feminine name. The ironic thing is that many of these same guys were playing as females themselves. Somehow, the fact that I named my character "Laura" was evidence enough for many players that I was, in fact, a real girl.
"You don't see many girls online," someone once told me after I had foolishly given out my guild card. No wonder. I've been on teams in which the other players were preoccupied with hitting on me for the duration of the quest. I have been stalked, followed as I roamed from block to block and ship to ship trying to avoid my would-be lover. It's sad; it's pathetic; it's sick. Still, I find it interesting.
It's interesting to see how what one's perceived gender affects others' attitudes towards the person. For instance, while my most vivid PSO gender memories are of stalkers and suburban teen pimp wanna-bes, most of the time I've been treated fairly nice. Guys are more likely to assist me, give me items and meseta, and follow my lead... even hold doors open for me. I get guild cards left and right and am quickly picked to join a quest. Being a girl does have its perks.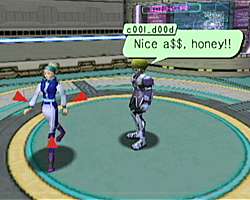 Of course, it's her nice butt which got her a double saber, too.
Sometimes I wonder if the thought of a girl who acts like a guy is what makes my Laura so attractive to certain PSO gamers. While it's certainly true that males make up the majority of gamers, there are females who play games on-line. Smart female gamers just know better -- that is, know how desparate many guys on-line are and how they'll prey upon the slightest hint of a female in their midst. The fact that I know quite a bit about video games is made more impressive and perhaps even desireable by being perceived as a female. I suppose I could "role play" in the RPG (wow, whatta concept), but I think that'd be cruel and misleading. Of course, perhaps that's what everyone else is doing -- playing some role other than himself behind his chosen avatar.
The Pioneer 2 has become a Love Boat of sorts, with a few male players trying to date other male players in female clothing. Some people don't even bother to ask to see if I'm really a girl or not, beginning the cheesy pick-up line flood post haste. Nothing's worse than fighting a boss on hard and having a team mate run down his list of well worn pick-up lines on you, flooding the screen with text and blocking your view. I've come this close to killing off my Laura character because of the unwanted attention given to her, but I really dread the thought of having to rebuild another character let alone lose my treasured Fire Gatling -- a Fire Gatling given to me by another player. I really like my gatling gun.
If someone gave you a rare item just for being a cute girl, what would you do? Would you refuse and reveal your true person or just keep it and continue to lead them on?
Note: Names changed to protect the well-being of the fictional characters.
Comments on this piece? Mail Feedback.
Essential Links