How Soul Calibur Stole My Heart
A simple look at one of the best games of all time. - Editorial By digitaltaco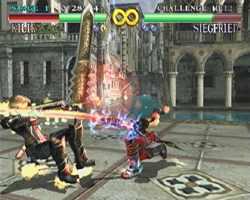 Kilik's feathers may make him look weak, but he's got quite a bit of power!
In my last editorial for PlanetDreamcast, I spat on about what makes me angry about the Dreamcast Broadband Adapter. On this go 'round, though, I thought I'd clue you in on something I love about the Dreamcast. And there are a large number of things that would fall into that particular category. But the thing I love most about the Dreamcast is actually one of the games that was released for the system. So today, I'm going to tell you why I can't imagine my world without one little game... I'm talking, of course, about Soul Calibur.
At the time of the Dreamcast's American release, having 19 launch titles available was pretty much unheard of. The Nintendo 64 had launched with only two titles available (Super Mario 64 and Pilotwings 64) just a few years prior. So it was definitely rare to see so many games at launch. The fact that there was a classic among them is even more amazing. Sure, Sonic Adventure was good. NFL 2K kept the sports fans busy. But nobody can deny the the greatness of Soul Calibur. From the first moment I laid eyes on the title, at E3 1999, I knew I was in love.
Now, I know there are a bunch of 2D fighting purists out there... Hell, I love gathering up a group of friends and throwing down for a game of Street Fighter 2 Turbo as much as anybody else. But there was something so instantly gratifying about Namco's first Dreamcast foray. Of course, it was graphically superior to any other fighter yet released... But that wasn't it. I think the main draw was that button-mashers could pull off some nice looking moves and combos without knowing anything about the game. But if you took the time to master a character, not only could you take down those pesky button mashers, but it also felt as if you had control of almost every aspect of how your character moved around the screen.
And I suppose this has a lot to do with the fact that the game just has some many darn moves! Blending the Tekken-styled tap-tap moves with a few Street Fighter rolls seemed like a brilliant way to please fans of both 2D and 3D fighter fans. And the moves themselves just felt so...well, right. Every jab, smack, or stab seems to offer just the amount of visual flair and impact that it should. And the ability to link together numerous different moves into small combos really works well.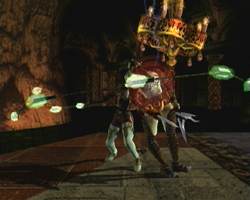 Ivy's "Summon Suffering" throw is one of the most difficult moves in the game to perform. You won't see a button masher executing this!
The countering system is another thing that helps set the masters apart from the chump button-mashers. Once a player learns to guard and parry, he can easily defend against pretty much all that a button-masher can throw. And with the satifisfying green flash and nifty clang sound effect, the masher will understand that he's being taken to the cleaners.
You know, I've been playing the game since September 9th, 1999, the day of its release, and I can safely say that I've merely scratched the surface of what's in the game. I've learned to play probably no more than five or six characters properly. That's not to say that I can't play with the rest... No. I merely wouldn't be interested in playing most of the other characters in a tournament setting. Which is great! It means that for me, the game still has so much life left. There is so much left to learn. I played with Kilik exclusively for probably about the first two months after the release of Soul Calibur. After that I began to branch out, and I learned to play with Ivy and Siegfried. But I could still come back to Kilik, and it is always fun. I've never really had an attachment to a fighting game character in the same way, except maybe Ken Masters.
Soul Calibur is also one of the only games, outside of the PC world, that my friends and I would get together and play for hours on end. I can't tell you how many nights were spent playing versus mode. And even at the eight or nine hour mark, we still played on. Not to mention the fact that even my non-gamer friends got interested in the game (probably because of the beautiful graphics) and joined in the fun. And because it is so easy for beginners to get ahold of, many of them became actually players. I even know people that bought Dreamcasts, and became gamers just because they had once watched us playing Soul Calibur. And even the primarily PC-oriented GameSpy crew got the Soul Calibur bug. Many of their recent Quake/Half-Life centered Beatdown LAN-parties have included a Soul Calibur tournament. PDC's original Site Coordinator, Fragmaster, even took the crown at the first Soul Calibur tournament!
So, you've spent the past few minutes reading this editorial. And I suppose that you're wondering what it all means. Well, I suppose I am simply trying to say this... I love Soul Calibur, pure and simple. There are very few games that have captured my heart like this fighter has. And at a time where my consoles were collecting dust and I had become a primarily PC-gamer, Soul Calibur reminded me why I love console gaming so much. And I honestly have stayed that way since then. Sure, I love a game of Quake just as much as the next guy. But console gaming is my home. And I'd like to thank Soul Calibur for helping me find the front door again.



Essential Links