British Gamers
Being a gamer in the land across the sea. - Editorial By RaptoR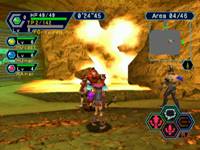 Phantasy Star Online Version 2 will not be released in Europe, even though it is currently availble in Japan and is coming to America in September.
"Britain?... Oh, you mean England, that cloud over the North Sea..."
"Are there gamers in England?"
"Last time I checked, they barely had electricity."
"Should we release our game over there?"
"Hmm, I dunno. Perhaps we should just let it sit for a few months so we can remove a few features, then release it."
"Yeah, let's do that. After all, they'll never notice..."
While the above statement may not be entirely accurate, it seems that some game developers take this attitude when deciding which games they will release in Europe and the United Kingdom. As you'll know if you're unfortunate enough to live in the UK, several games either fail to materialise at all, or have many features removed. Games such as Unreal Tournament, Daytona USA and Outtrigger have had their online play removed for European release. This is really quite unacceptable. It's not as if it would have been that much extra work to leave the online portions of the game in the game, right? Worse yet are games like Virtual On: Oratorio Tangram and Phantasy Star Online Version 2, which have failed to even appear on the shelves of European games retailers.
Some might say the lack of online play in these titles is inevitable. European Dreamcast owners got screwed out of extra bandwidth to start when Sega shipped PAL Dreamcasts with a paltry 33k modem (compared to the 56k that Japanese and American gamers enjoyed). Right now Sega's Broadband Adapter is dying a slow and painful death, but even when it was at the height of its success, Sega refused to bless Euros with broadband support for online Dreamcast games, leaving them with no alternative other than to use the 33k unit that came with their Dreamcasts.
There could have been several reasons for this. Firstly, the stubborn telecommunications companies such as BT have refused to make broadband widespread in the UK, meaning that several parts of Great Britain will remain broadband-less for another five or ten years. It would seem pointless for Sega to sell BBA's to gamers in the UK if only a small percentage are able to use them. Yet, a the large percentage of Americans still use narrowband. So if Americans are given the broadband option, why not us as well.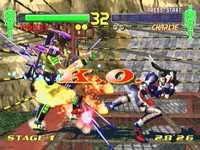 Fighting Vipers 2 is one of the few games that made it to Europe while missing America completely. And of course Japan got it too. Those Japanese get everything.
Probably the most annoying problem that British Gamers face is the fact that some games are simply not available in the UK. This means that if a gamer in Britain really, really wants that game then he or she will have to import it. This involves buying a DCX or equivalent disk in order to play the imported NTSC disk. Also, and more annoyingly, rather than paying around &pound30 for a new game from the local store, gamers end up having to fork out around &pound100 for the title after delivery costs.
However, it's not all bad in the land of Euro-gaming. Us Europeans are sometimes lucky enough to get hardware and games that don't make it to the US. Take Fighting Vipers 2, for instance. While it's certainly no match for Soul Calibur, it's a reasonably good game in its own right. This title never saw the light of day in the US, though it was released in the UK. We are also able to use the official Dreamcast gun with shooters such as House of the Dead 2 and Confidential Mission. This peripheral wasn't even released in the US, due to the paranoia regarding the Columbine tragedy. Apparently if a kid sees a plastic gun, he may go on a rampage at school the next day. But only in America... That could never happen in Europe.
But the question still remains - why do British Gamers, and our European neighbours have to wait longer for games that our American cousins across the Atlantic are enjoying? Could it be that it takes that long for developers to convert games to the PAL European format... or is it the different cover art and blue Dreamcast game boxes that holds them back? Who knows -- but what is certain is that being a gamer in the United Kingdom or Europe has its ups and downs, and it is far from a smooth ride.
Should we be grateful that we get the games we get, or should we demand more from developers and Sega? You decide...



Essential Links