Super Runabout: San Francisco Edition
A quick look at Interplay's upcoming smash-a-thon - by BenT We recently had the opportunity to visit Interplay's offices and check out a recent build of Super Runabout: San Francisco Edition. Super Runabout is the latest in a series of games by Climax, the first two having appeared on the Sony Playstation. Only the first game was brought to America, under the title Felony 11-79. Published by ASCII, it enjoyed good word of mouth, but was hardly a hit. Interplay is looking to change that with this turbo-charged sequel.
Interplay describes Super Runabout as "The mission-based driving action of Driver meets the go-anywhere insanity of Crazy Taxi," and that's a pretty apt description. The game features two different scenarios to challenge your driving prowess. "The Poor Have No Leisure" places you in the role of a happy-go-lucky group of kids, who by some strange leap of video game logic think they'll get ahead by completing various high-speed driving missions throughout the San Francisco metropolis. The other scenario, "Bad News Has Wings", puts you in the role of San Fran's finest, out to clean up the streets by driving like a maniac. Each scenario has 8 missions to conquer -- six normal, and two secret ones. It's obvious that Climax has put a lot of thought into the various mission objectives, as they're many and varied. One has you rescuing the president's daughter from two rogue limousines, while another has you pushing illegally parked cars into waiting wreckers. Yet another requires that you dash around the city smashing into hot dog vending carts, in order to collect enough lettuce, bread, and frankfurters to construct three gourmet hot dogs for visiting dignataries. It's pretty crazy stuff, but fits in well with the game's unrealistic, over-the-top destruction and light-hearted, comical nature.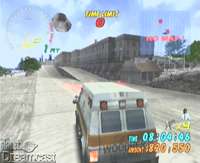 At the time, the ambulance seemed like a fine choice for assaulting Alcatraz.

And that reminds me... the destruction that you can cause is amazing. Just about every freestanding object in the city can be destroyed, short of the actual buildings (and even they can have their windows smashed!). What's more, every destructable item has a dollar amount attached to it, from $100 for a traffic cone to a cool $1,000,000 for military jets. And unlike other games, you're actually encouraged to rack up as much property damage as possible, short of destroying your own vehicle. That's where the major challenge of the game lies: survival. Contrary to popular belief, careening madly around the streets of San Francisco at speeds in excess of 130mph is not the healthiest choice of activities, and your poor car will suffer the effects of such abuse. The damage is shown in real-time, so your hood will become quite crumpled after a few run-ins with buses and walls. In fact, once you damage your car enough, you'll see the message "DAMAGE MAX", and the most damaged parts of your car will be revealed on the HUD. You'll have to be extra careful, now: take just a few more hits to that weakened section, and the car's a goner, ruining your chances of completing the mission. As you might imagine, this adds a lot of extra tension to the game, as you'll have to drive very defensively to shield the weak points of your vehicle as they emerge.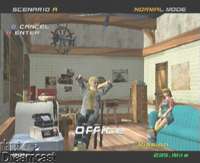 The interface is pretty cool, and changes depending on the scenario you're playing.

Plenty of extras come in the form of hidden cars and bonus missions. There are a total of 32 vehicles and 16 missions, so it'll be a while before you unlock everything. Speaking of which, the hidden surprises are unlocked in various innovative ways. One car, for example, is only available after you pull off a 180-yard jump in a certain mission. Another requires you to complete a level without taking (or causing) any damage. As you might imagine, this is pretty damn hard, and a cool challenge for your driving skills. The extra cars are well worth seeking out, as unlike certain other games, they each have a totally unique handling and feel. From a Moped to a limousine to a tank, the vehicles in Super Runabout cover all the bases.

Things are not all peaches and cream, however, as the game has two notable problems. The most obvious is the graphics, which are clearly not up to the standards of Sega's outstanding Crazy Taxi. This is not just a case of sloppy programming, though; rather, it stems from the game's use of Windows CE. Yes, CE has reared its ugly head once again, and clearly takes its toll on the game's framerate and draw distance. This isn't a showstopper, because the core gameplay is quite entertaining. Still, it's unfortunate that the game had to leave so much of the Dreamcast's power untapped. The other issue is the physics, which are quite... creative. Everything in the physics is highly exaggerated, so it's not uncommon for your car (or motorcycle, or bus) to pull a 360, or flip through the air at the slightest provocation. This isn't so much a problem as it is something to get used to -- watching the game's producer zip through the levels with incredible ease was a testament to that. Interplay is working hard to tweak the physics to perfection, so you can rest assured that the American game will handle much better than the original Japanese version.

That's the scoop on Super Runabout: San Francisco Edition. The game is currently scheduled to debut on September 22nd, so check back around then for our full review. Until then, enjoy these new screenshots and movies. Dammit.

Media:

Gameplay 1 (MPEG) - Collect the bombs, before times runs out! [Big (27.4M)] - [Med (13.4M)] - [Small (2.9M)]
Gameplay 2 (MPEG) - A limousine should be the perfect thing to stop that out-of-control cablecar.. [Big (11.6M)] - [Med (6.2M)] - [Small (1.3M)]
Gameplay 3 (MPEG) - This mission involves smashing fake ambulances. Don't ask. [Big (21.4M)] - [Med (10.5M)] - [Small (2.2M)]

Comments on this feature? Mail Feedback.