DJ Swirl's Tilt-O-Whirl
Phat phunky beats of DC treats, yo - By DJ Swirl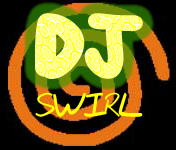 Yo yo yo BREAK THIS SHIAT DOWN muddachuckahs, this be DJ Swirl, the hippest, flyest, most radical Sega Dreamcast thing to swaggah about the avenue. Know what I saying? Dig this: Dreamcast be the only way to game and productivity. I even be typing this leet here on me Dreamcast Keyboard. Lookin' stylin' too! Think DJ Swirl just be some phat dude wit a 'tude? I ain't coppin' none of that, I'm an original gamah. Mastah System, Genesis, 32X, Sega CD, Saturn, Pico… been there done that foo! Sega games are always fresh and fun, no lie padre! When you get youself a Dreamcast, you got the HOOK UP ta allz ya gamin' needs!
Check it: I wuz chillin' down at Electronics Boutique. Getting' me daily fix of new DC releases, ya knowz? And guess whoz I seez? Mark Aruther, who is like, my favorite programmah at Midway! And there I treated them to a Del Taco combo and chilled wit them a bit. They promised to come by my crib and hang and play Blitz 2001 sometime too! Wicked! Call anytime dudez!
Yo yo yo lamahz, I gotta spread the love with some pics from my latest Dreamcast PAR-TAY. Just anothah day in the mad life of DJ Swirl, hon! Check 'em out!
| | |
| --- | --- |
| CHECK ME THE FUNK OUT! Yah, that's me and mah gamez. I GOTZ MAD HOOK UPS! Bob at EB is dah shiat. | PenPen soooo flyyyyyyyyyy... awww yeah. I gotz mo' gamez than yo' lame azz. |
| | |
| --- | --- |
| I was all buggin' when my VMU reminded me I waz latez for mah paper route. VMU = DJ Swirl's Personal Organizer. Gotta keep me affairs in ordah. | K, dis just me teachin' M.C. Bendy Rabbit how to play DoA2 (ROCK!!!!) |
| | |
| --- | --- |
| Suckah won't give me mad propz, ears up foo! Awww yeah, I hold controllahz WEST SIDE style. | HOUSE OF THE DEAD 2 TIME!!! Gotta acts all sneaky and shiat so zombiez don't suspect. |
| | |
| --- | --- |
| DIE DIE DIE ZOMBIE DIE DIE DIE!!!!! | MAD CATZ BLASTIN' ZOMBIEZ!!! BUSTIN CAPZ WHERE IT ATZ!!!! DIE!!!! |
| | |
| --- | --- |
| CAP BUSTIN' CAP BUSTIN'... UH!... CAP BUSTIN'! I gotz it goin' down, just like in mah hood bangah dayz. | Things get 'tense so I've gotta bust out dah John Woo skillz. DIE! DIE!!!! |
| | |
| --- | --- |
| Now DJ Swirl be takin' it to the STREETS outside dah mall. That's mah ride. SP*ZERO = Sega Power Zero is a HERO!!! BREAK THAT DOWN PS2 FANBOOOOOYYYYYYZZZZZ! Oh yah, whilez I was here I was stylin' and freestylin' the virtues of DC. Werd. And checkz outz how I boughtz me six shootin' light gunz along tah bust capz in any playah hateaz. | Just chillin'. Anothah day of a job well done. SEGA DC RULEZ!!!!!! |
Dreamcast gonna rule FOREVER man. PS2 all jaggy and Xbox is just like a Gateway PC and Nintendo is like Pikachu and only like my 2-year old cousin play that wack trash. So with the modem and online Dreamcast UNSTOP and DROP tha imitators. Sega made the first vidgame, even 'fore NES. Jet Set? Quake III? Crazy Taxi? Fly babez from Soul Cal? Only on Dreamcast, mah brothaz.
OK now it's time fo' DJ Swirl to DROP A PHUNK BOMB AND I gonna bust it out wit anothah block bustin' Dreamcast hip-hop salute. I gotta admit this be me best yet and the rhymes are tightah than Tina from DoA2's ass, true dat. Give it a listen ya lout, or you'll be missin' out.
DJ Swirl, remembah the name, 'cause I've got da GAME. I'm outtie, yo.
Comments on this (rejected) feature? Mail Feedback.