PDC Playmate of the Month
Break out the joysticks, boys: Miss September is in town.
Miss September 2000
Miss September comes to us all the way from the urban jungle known as Tokyo, where she was manufactured by Sega Enterprises, Ltd. "When people learn I'm from Tokyo, they always assume I'm some bright lights, big city kind of peripheral. Well you know what? I am!"
That spunky attitude and perky demeanor is exactly what brought Miss September to our talent scout's attention. "I had never really considered posing on PDC before, because I come from a very conservative factory. But hey, I thought, you're only young once! I figure I'll look back at these pictures with pleasure 10 years from now, when I'm sitting, derelict and unwanted, on the dusty shelf of a sleazy pawn shop." Upon saying this, she brightens up. "That's still a long ways off -- I figure I've still got another three thousand rounds of Soul Calibur in me!"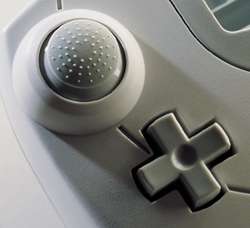 Being a controller, much of Miss September's time is spent being manipulated by teenaged hands, sending hardcoded electrical impulses to a Sega Dreamcast brand videogame console. "Hey, it's a living!" she says with a laugh. When asked further about her job, she sobers up a bit. "I take my vocation very seriously -- if I screw up in transmitting the player's commands to the console, it could cause untold frustration and despair for the poor guy. But that's not a problem with me, cuz I'm a consummate pro!" We don't doubt it, honey.

Since most of Miss September's time is spent assisting games, it's only natural that's she'd develop a few favorites over time. "I really like working with Virtua Tennis; he's very easy to talk to, and his control is SOOO tight. I'm not kidding, that guy really pushes my buttons!" Virtual On: Oratorio Tangram is another favorite of hers. "At first he seemed kind of rude, because he kept demanding to be played with Twin Sticks. Now, it's true that I'm pretty big for a standard controller, but there was no WAY I could measure up to those standards! Luckily, once we worked together for a while, he realized that I have a lot of charms of my own, and it turns out that he's quite the sweety. Very deep and thoughtful -- I like that in a game!" We couldn't have said it better ourselves.

As we talk I notice that she's surrounded by the coils of her luxuriant, six foot long connector cord. "I get a lot of comments about how long my cord is, which always sort of takes me aback. I guess I'm just so used to it by now, since I've been looking at the thing since I was 16 minutes old. And yes, of course it's all natural," she says with a laugh. Hey, we had to ask! When queried about her other outstanding assets, the lovely lady just giggles. "What do you expect? I'm a high-precision piece of advanced ergonomic engineering. What do you take me for... a NES pad?" Point taken.

Miss September has big plans for the future. "I'm going to do my best to help my owner conquer any and all Dreamcast games he might add to his collection." And could a family be in the works? "I'm a goddamn video game controller, numbnuts. We don't have babies." She softens a bit. "But that doesn't mean I can't help raise some very cute Chao!" Sounds like a plan to us, babe.

Miss September's Data Sheet
CLASS: Standard Sega Dreamcast Controller
MY FRIENDS CALL ME: HKT-7700
BIRTH DATE: 9-20-99
BIRTHPLACE: Japan
BUST: 14"
WAIST: 13"
HIPS: 13"
HEIGHT: ~2"
WEIGHT: 9 ounces
CORD: 6'
CONNECTOR: Proprietary
ESTIMATED TIME TO FAILURE: 5 years, 1 year under warranty
AMBITIONS: To accurately translate my owner's hand manipulations into appropriate onscreen actions.
TURN-ONS: Firm grips, ribbed VMUs, double expansion slot penetration.
TURNOFFS: Sweaty hands, people who throw their controllers, that gunk that builds up on my L and R triggers.
DREAM VACATION: I'd like to go back to Japan someday in a plush Nyco Dreamcast Carry-All.
FAVORITE DRINK: What? Are you trying to fry me or something?
I MUST HAVE: A jump pack!
THE ONE THING THAT YOU COULD CHANGE ABOUT YOURSELF: I gotta admit it: my d-pad SUCKS for 2D fighters. :(
TURN UP THE RADIO FOR: Until my owner buys Seaman, I lack auditory sensors. Therefore, what is playing on the radio is irrelevant.
Centerfold (Warning: Full Frontal Nudity)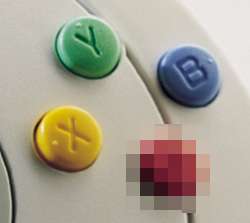 If you'd like to see more of this lovely Miss, be sure to check out her full pictorial in the September issue of the PlanetDreamcast print mag. She'll be waiting!
Comments on this (rejected) feature? Mail Feedback.