Sega Classics: Streets of Rage 2
Sega's ancient beat-em up still kicks butt! - by Mr. Domino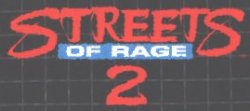 Please keep in mind that SoA's redrawing the cast as 80s rock rejects on the cover in no way affects the game inside.
Sure, America's Most Wanted is a good show, but wouldn't it be better if we got to watch John Walsh walk in one direction for half an hour pummeling everyone within a ten feet radius? Now picture John Walsh as either a young tough guy in jeans, a cute girl in a mini skirt, a young kid on skates, or a really strong wrestler, and you pretty much have this month's Sega Classic -- Streets of Rage 2. Of course, the bad guys are far worse in the game than the show: instead of deadbeat dads and idiots who can bounce a check, Streets of Rage 2 throws an assortment of freaks, all bent on killing our four John Walshes. From ninjas to strippers to fat men and robots, if there's a seedy stereotype, it's in the game (apologies to Electronic Arts for paraphasing its logo in regards to a Sega game).
Streets of Rage 2 was Sega's answer to Capcom's Final Fight on the SNES, a/k/a the Super Nintendo Entertainment System, recognizable since every game has "Super" in the title. Final Fight, although limited to single player only, looked good. The characters were huge thanks to the SNES's impressive sprite handling and the enhanced color palette made the gritty Metro City all the more real looking and less friendly. Minus some stupid censoring (Sodom's name was changed since Nintendo doesn't like sodomy on its consoles) and the lack of a two-player mode, Final Fight was the beat-em up to beat.
This isn't to say that the Genesis was without good beat-em ups. In the same year that Final Fight debuted at the arcades, Sega released its own epic beat-em up, Golden Axe. Golden Axe was very much the simplistic beat-em up Final Fight was with only a handful of moves and a stupid, slim cast for fist fodder. When the Genesis was released, Sega was quick to port its hit arcade beat-em up to the system.
Hey, mister? Weren't you supposed to be talking about Streets of Rage 2?
Pipe down! I'm getting to that! See, when Final Fight finally got a home port on the SNES, Sega countered with Streets of Rage, which was nothing but a clone of Golden Axe! All that was missing were the little elf thieves who would run and steal your magic bottles while the characters slept in uncomfortable positions. Instead of using magic to summon dragons, our urban heroes gave out a call to psycho cops who would litter the screen in bazooka fire, carefully aiming to avoid hitting the good guys. We still walked to the right, banged away at the attack button, and moved along a single scrolling background. It was stupid fun, but we loved it.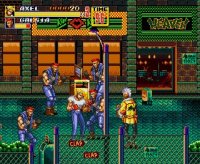 Axel finds himself surrounded by unfriendly clones and Charlie Brown.
Streets of Rage 2 changed all that. Gone were the tiny sprites. Gone! The larger sprites not only looked better but also helped add to the arcade-like feel of the game. A 16-megabit cartridge, Streets of Rage 2 packs away more art and animation than most developers nowadays probably think is possible. In the same space it takes you to hear your "You've Got Mail!" audio file, Sega overloads your senses with the sheer variety of enemies, backgrounds, and moves.
Oh, that's right, the moves. The assortment of moves available for each character are what make Streets of Rage 2 such as amazing beat-em up. Regular attacks, furies, flurries, blitzes, power throws, power blows, super slams... the list goes on and on... until it ends some 20 moves later. The large arsenal of attacks helped the game avoid the repetiveness of earlier beat-em ups while just making the game look all the more spiffy. Even better, nearly each and every attack is unique to the four main characters and make them feel like unique fighters in their own right instead of just swapped sprites over the same player-controlled hit box.
There are four characters to choose from each with different strenghts and weaknesses:
Axel Stone -- Axel is the Cody of the Streets of Rage series, an average fighter and an average guy. He wears a white T-shirt and blue jeans.
Blaze Fielding -- Blaze likes to kick a lot while wearing an impossibly tight, short red skirt. She's a great character to play with average abilities much like Axel.
Eddie "Skate" Hunter -- Skate fights on rollarblades. Although the weakest of the bunch, his speed and technique still make him a good fighter.
Max -- Max is a white Hulk. He's a powerhouse against the waves of enemies, although all that muscle does slow him down a bit.
It's worth playing through the game as each of the four characters since they all require different techniques and strategies to make it to Mr. X and defeat him. The foursome are taking on Mr. X again after finding a note and picture of a chained Adam Hunter (Skate's brother and third guy from the original Streets of Rage game). Someone the criminals of the city have taken it upon themselves to stop the would-be heroes as they travel across the city and its attractions, including an amusement park and a baseball field with a hidden base. (No, I will not pad the Internet with another Zero Wing joke.) The wealth of backgrounds featured in Streets of Rage 2 was unprecedented which help the game's pacing.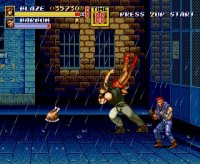 A whole turkey will restore the health Blaze will lose after being thrown.

The game moves fast for a beat-em up, something which really wasn't matched until Sega's own Die Hard Arcade. Instead of a constant scrolling background, Sega avoids boring players by having quick small gang fights in differing locations, one after the other. You'll kill people on the street for a couple of minutes, then move into the bars to beat up on some S&M girls, then take it out into the alley for a fight with the bartender boss. Unfortunately, Streets of Rage 3 doesn't pace itself as well as Streets of Rage 2, so it remains at the bottom of most people's favorite Streets of Rage lists.

The only real bad thing about Streets of Rage 2 is that Sega removed the team special moves. Other than that, Streets of Rage 2 has just about everything anyone could want in a beat-em up. It has great graphics, an incredible soundtrack for which the series and composer Yuzo Koshiro are most known for, fun gameplay, and a great cast of characters. It may be the middle child of the series, but there's no denying its place at the top of the three and maybe even the genre as a whole.

Next: More screenshots