NFL Blitz 2000
WWF Meets The NFL - Review By Fragmaster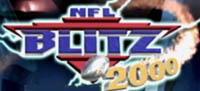 Videogames that are based on real sports come in a wide variety of flavors. There are the simulations, which try to be as realistic as possible. These games, when done right, are challenging and entertaining, but the problem with these type of games is that too much realism or a lack of realism in certain aspects of the game may ruin the overall experience.
Most of the time, sport-based videogames split the difference and go with a mixture of realism and fantasy, resulting in a game that abides by the rules of the game in some aspects, but changes other rules to accommodate the format and make the game more fun to play.
And then there are games like NFL Blitz 2000.
The Good
"No Refs. No Rules. No Mercy." Sums up NFL Blitz's gameplay nicely. This game definitely isn't a football sim and it doesn't try to be. For one thing, there are less players to deal with. Individual player statistics and attributes? Nowhere to be seen! It doesn't even really matter what teams you play with, as they all play pretty much the same. Is this a bad thing? No, not necessarily. Since NFL Blitz throws realism into the trash and then blows it up with a barrage of nuclear missiles, the game features a lot of really cool stuff you'd never see in a real NFL game.

Obviously, since there's no refs, there aren't any penalties in NFL Blitz. Pass Interference is not only acceptable; it's encouraged. Feel like throwing that pesky running back over your head or dropping a big WWF-style elbow to his chest after he's scampered out of bounds? Go ahead. About the only limitation is that you can't charge into the backfield before the ball is snapped, which is a good thing.

There are other changes as well: extra points are automatic (unless you choose to go for a conversion), and you don't kickoff (the computer kicks off automatically). You need thirty yards for a first down (instead of ten), and the clock always stops upon completion of a play. There is no delay of game, but you're only allotted a few seconds to pick your play. In case you're wondering, you can prevent your opponent from seeing what play you're picking with a quick double tap of the up arrow. The playbook selections are adequate, the play editor is easy to use, and you can save your customized playbook to VMU.

NFL Blitz's control is so easy to pick up that you may not even need to read the instructions. Turbo is the left trigger, right trigger audibles, B-Button passes and A-Button tackles or hurdles. There are plenty of moves to master, like the stiff-arm, spin move, and high hurdle, but since you're usually only dealing with two buttons and the left trigger, you'll pick everything up easily with little practice. The passing system is especially elegant, you just push the directional pad in the direction of the receiver you want to throw to and hit the pass button. If you don't push the pad in any direction, you'll just pass to the receiver who is currently "blinking," usually this is the receiver who is the most open, but not always. The fact that there's game tips between quarters and at the beginning of each game makes picking up the game easy enough for half-drunk non-football fans to play and enjoy. Believe me, I tested that theory. It's a great party game.

If you're familiar with NBA Jam, you'll know what "turbo" and being "on fire" means. Turbo allows you to run faster and pull off cooler moves, but you only can use it so much before it runs out. A player (or players) "catches fire" (literally) when he pulls off a series of "good" plays. Players on fire are force to be reckoned with.

There are three modes of play: arcade, tournament, and season, which are all what you'd expect. There are plenty of options to fiddle with, like quarter length, field conditions, length of play timers, and difficulty. There are also a lot of secrets and Easter eggs to unlock.

The artificial intelligence is pretty darn good, and the games are usually kept close no matter what mode you're playing in. The interface is straight-forward and easy to use.

The graphics are actually better than the original arcade game. While they aren't as good as Sega's NFL2K, there's really nothing to fault. Oh, and the cheerleaders look especially nice.

Sound and music is pretty good overall. The announcers and player taunts can be a little annoying after awhile, but you can shut them off. Actual in-game sounds are nicely done and arcade-y. The music isn't really a factor, because, like most games, you probably won't notice it.
The Bad
There really isn't that much to complain about, aside from the fact that hardcore football fans may be frustrated by the lack of realism and style of gameplay. Some players may find the game repetitive after awhile. Sure, slamming a receiver to the ground and jumping on him after the play is over is funny as hell at first, but after you've seen all the taunts and after-the-play nastiness, it gets to be passť. And if you don't have any football-game playing friends, you'll miss out on a lot of the game's appeal.

There are some other minor nitpicks, such as the inability to choose what team the computer plays as in arcade mode, and the fact that the environmental conditions have almost no impact on the gameplay, but that's about it.
The Final Word
NFL Blitz 2000 is a pretty solid game. Even non-football fans may get a kick out of it. The control, graphics, sound, interface, and AI are all great; the only problem is that the replay value and depth may be a little lacking. You'll probably want to pick up NFL2K if you're looking to play through an entire season or two and really get into the finer aspects of the game. But if you want a hard-hitting football game that doesn't take itself seriously, doesn't require any long commitments to enjoy, and is easy to play, go out and buy NFL Blitz 2000.
Developer: Avalanche
Publisher: Midway
Genre: Sports

Highs: Nice graphics, cool gameplay, solid control, easy to pick up, good sound, no penalties, cheerleaders. It may be unrealistic, but it's fun.

Lows: Some people may not like the style of play, may get old after awhile, not as fun single-player.

Other: 1-4 Players, VMU Compatible (for saving games, progress, and plays), Jump Pack Compatible.

Final Score:

(out of a possible 10)
Visit this Game's Dreamcast Database Entry
Comments on this review? Mail Feedback.