Crazy Taxi 2
It's time to make some crazy money all over again! - Review By digitaltaco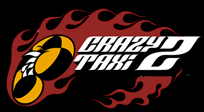 If you've been playing video games for any long period of time, then you've no doubt been confronted with something that all hardcore gamers must learn to endure: sore thumbs. This has been a problem that we've all lived with since the first time we laid our hands upon a console controller and started playing. I've had my fair share of sore thumbs in my more than ten years of gaming. But the strange thing is there are but a few games that I play so hard for so long that it actual affects the nerves at the end of my thumbs. There was Street Fighter 2. There was Wave Race. And then there was Crazy Taxi. The hours I play in attempt to finish the Crazy Box mode alone were enough to leave my thumbs in shambles. The arcade mode did a number on them as well.
The funny thing is that I don't think that having sore thumbs is necessarily such a bad thing. I mean, if a game is able to leave a mark on me - physically - then it's must be a great game, right? You wouldn't submit yourself to pain for no reason at all. And if the game sucked, you wouldn't be playing for that long in the first place! So, when I heard that Hitmaker was working on a sequel to one of those few games that made me feel the burn, I knew that I would be in for a treat... and hopefully a bit more pain.
The premise of Crazy Taxi 2 is simple: take the things that gamers loved from the first game, (read: everything) move from the hilly streets of San Francisco to the crowded streets of New York, and build upon the already addicting gameplay with new features. So what you're probably wondering, is how this game holds up. Will a fan of Crazy Taxi be impressed by the sequel, or will it just feel like a waste of cash. Well, hop in my friends, and I'll give you a brief tour of the title. Oh, and you may want to strap on your seatbelt... the car's been known to hop.
The Good

Fore!

I want to get one thing clear from the start here; Crazy Taxi 2 is very similar to its predecessor. Everything from the menus, to the interface, to the in-game HUD is taken straight from the first Crazy Taxi. Now whether or now you see that as a bad thing or a good thing is up to you. I personally thought that stuff all worked well before. And as the old saying goes, "If it ain't broke, don't fix it." So, it's a judgment call.

The most important thing about Crazy Taxi 2, is its control. Like the first game, this game controls as close to "flawlessly" as you could expect an arcade racer to strive to be. Not only is it easy to corner and swerve through traffic, but there are also plenty of clever moves that can be performed using button combinations. Fans of CT will be glad to hear that all of the signature moves from the first game such as the Crazy Drift and the Crazy Boost have all returned in the sequel. And like in the first game, they are just as easy to perform, once you get the hang of them. And in addition to all the moves previously in your driving arsenal, the automobiles in Crazy Taxi 2 sport the ability to jump.


Rah-rah, shish-boom, aaaahhhh!!!

The jump move, known as the Crazy Hop, is a bit different from the games other techniques. Unlike the aforementioned moves, the Crazy Hop is performed with a simple press of the "Y" button. When I first found out about this at E3, I wasn't sure if I liked the idea of a technique that was so simple to perform. I thought that making the player perform a series of button presses would be preferable. Now, after spending countless hours with the game, I'm happy to say that the way that the new move is implemented actually works great. By simplifying the way the jump is performed, it is now easy for it to be chained together with other moves. For example, you can Drift Hop if you want to jump onto a ledge and head in the opposite direction. Or you can perform a Crazy Boost near the end of your jump to soften your landing and gain speed.

The Crazy Hop adds a whole new dimension to gameplay in the Crazy Taxi world. Now instead of driving in-between other vehicles, you can hop over them. Instead of going around building, you can just drive right on top of them. Basically, an entire vertical element has been added to the gameplay that did not exist in Crazy Taxi. There can now be segments of road that are at a higher or lower altitude. Also, there's the possibility of more secret areas to find. I, for one, think the inclusion of the jump adds a pretty drastic change to the way the game is played, but that could depend on whom you ask. Because your guide arrow won't remind you of things like shortcuts over buildings, it really influences the player to learn the maps if he wants to get from one place to another in no time flat.

The other major addition to gameplay is the ability to pick up multiple passengers. Now, this doesn't mean that you can pick up a passenger, and while on your way, pick up somebody else. Multiple passengers are picked up at the same time and are represented by a blue "pick-up" icon. After picking up the passengers, you must get them all to their destinations in the allotted time before you get any money. If you don't succeed, you get no cash and will have surely wasted a good amount of time. The rewards are great if you do succeed though, and expert drivers will surely want to stick to picking up more than one passenger. For example, after dropping off four people successfully, you will commonly receive more than $1000, which in CT2, is quite a bit of money.
Next: More Good, The Bad and The Final Word