Head Hunter (Euro Import)
The game that generated a lot of buzz on the DC, but is it worth importing? - Review By Retrovertigo - Page 1/2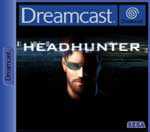 If there's one thing I learned over the years of watching movies, television, and playing video games, it's that if you want to be a badass, you have to look like a badass. How do you pull off that look? Wear sunglasses! Think of all the onscreen badasses who wore sunglasses: Arnold Schwarzenegger in The Terminator, Keanu Reeves and the entire cast of The Matrix, Sylvester Stallone in the movie Cobra, and a plethora of action heroes and diabolical bad guys. Jake and Elwood from The Blues Brothers wore sunglasses ("It's 106 miles to Chicago, we've got a full tank of gas, half a pack of cigarettes, it's dark and we're wearing sunglasses. - Hit it"). Movie stars and rock and roll musicians wear them all the time. Even radio personalities like Howard Stern wear sunglasses to look "cooler".
You may be asking yourself, "So, if I wear sunglasses, can I look cool too?" You can wear sunglasses all day until the cows come home, and people will think you look like a dweeb. I mean, how many times have you seen somebody walking in the school halls, or in a shopping mall, or in a store wearing sunglasses, and you roll your eyes while thinking, "He's wearing sunglasses inside? What's wrong, the fluorescent lights too bright for his eyes?" Obviously, if that's the case, the guy is trying too hard to be cool. Sunglasses might make you look cool, but if you don't present yourself properly you're going to look like a clueless dork. Go back and watch some old 80's movies where the main character wears a pair of sunglasses or clothing that may have been considered hip and cool at the time, but by today's standards looks completely uncool.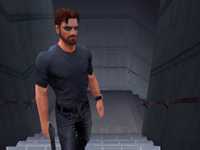 What is the point I'm trying to make? Trying to make someone look like the ultimate badass, doesn't necessarily mean that people will believe what is before them. Say hello to Jack Wade, the cliché of every "cool" crime-fighting hero. He wears the sunglasses, rides a sporty motorcycle, has a five o' clock shadow, speaks in a gruff voice, and has a "cool" name: Jack Wade.
Jack, like many other "renegade" action heroes, used to be a cop, but now he's a headhunter. And guess what? He's also "the best of the best." He's extremely resourceful and is physically unstoppable. He's like the Clint Eastwood of video games - a man of action, and few words.
Jack's got a problem. After escaping from a laboratory during the opening sequence, he awakens in a hospital. He's got amnesia, BUT for some reason he takes a job from a woman named Angela Stern to find her father's killer. Be can he trust her? What will he discover about himself as he slowly regains his memory? Is this game so clichéd that it will turn gamers off? Read on and find out!
The Good
You would think that after me taking the time to criticize the "too cool for school" way that Jake Wade is presented to the player, and the clichéd storyline, that'd I'd have nothing positive to say about the game -- but I do!

First off, I've got to say that the graphics are quite impressive. They're not the best that the Dreamcast has to offer, but Headhunter does feature some detailed character models as well as some pretty impressive motion capturing, complete with real-time shadows.

The game's controls somewhat mimic that of the Metal Gear Solid series, specifically some of the moves found in Metal Gear Solid 2. The game even has the similar MGS look complete with the "enemy radar".

There is a "Virtual Reality" training program called L.E.I.L.A. that helps get you familiar with the controls and learn new skills for avoiding or "disposing" enemies, which reminded me a lot of the Metal Gear Solid spin-off title Metal Gear Solid: VR Missions. It's very obvious that the developers at Amuze were inspired by MGS when developing this game. Anybody familiar with the gameplay of MGS will have a basic idea of what to expect when diving into a game of Headhunter.

The voice acting in the game is pretty good, and the CG-rendered movies are excellent. We're not talking Shrek, Final Fantasy (the movie), or Monsters Inc. CG quality, but it was better produced than most video game CG movies. I'm a big fan of games using their 3D engines to render real-time cinematics, but the way the CG was presented in Headhunter, made it seem as if the game was doing some pretty impressive real-time rendering on its own, because the CG models didn't look a whole lot different from the in-game characters. The transition from CG to 3D real-time produced graphics was smoother than most Final Fantasy games. (I feel that it's also important to point out that Jack Wade looks like Ron Perlman from the TV series Beauty and the Beast from the 1980s. Give yourself some extra credit if you're old enough to remember that series.)

The music is also quite good, and had a Hollywood movie-like sound. It seems more produced than your usual run-of-the-mill video game soundtracks.
Next: The Bad, and The Final Word