Psychic Force
I see a crappy game in your future! - Review By Fragmaster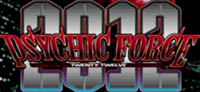 If you've ever been fortunate enough to be channel surfing at 2 a.m., you've no doubt seen those television commercials for psychic hotlines. The premise is simple: for a hefty per minute fee, you can talk one on one to a "trained professional psychic" who will predict your future with alarming accuracy. Of course, by "trained professional psychic," I mean crazy, funny-haired woman who spends half of her yearly income on Hostess products. And when I say "alarming accuracy," I mean vague guesses that could apply to anyone stupid enough to actually call one of these services, such as "someone you know or have known and forgotten will eat a slice of pie within the next year."
Which brings us to Psychic Force, yet another Dreamcast fighting game. Gee, who could have possibly predicted that!?
The Good

In Psychic Force, you fight in big cubes and blast psychic energy at each other. Oooh, that's gotta hurt.

If nothing else, Psychic Force at least tries to be a little bit different from the numerous other fighters already available. Even describing Psychic Force is a bit tricky. While the game touts "360 degree suspended fighting arenas," that's a bit misleading. You can't really move in three dimensions, but you can move 360 degrees around your opponent. As a result, the game is basically just a 2D fighter where you can float around in the air. Battles take place in giant cubes called Psy-Arenas, the barriers of which act like walls. Using your powers to slam your opponents against these barriers is a key to success in Psychic force, as these barriers cause lots of damage and leave your foe vulnerable to follow-up attacks. Like every other fighting game out there, you can kick, punch, and throw your opponent up close, but where Psychic Force tries to differentiate itself is in the long range attacks, the psychic powers.

The fighting system is probably a bit more complex than what you're used to, so I'll try to explain it briefly. There's three buttons, guard, light attack, and strong attack. When you're close to your opponent, you'll do those familiar punches, kicks, and throws, but when you're a distance away from them you'll throw balls of energy at them rather than punches. These balls of energy can do damage, but if you really want to apply the hurt you'll have to use your more powerful combination moves, called ESP attacks. But you've only got a limited amount of psychic power to use on your ESP attacks, so you can't keep pumping them out. Your psychic power can either recharge in time or you can charge it back up with psycho or hyper charges. To avoid these attacks, you can create barriers around yourself to block incoming attacks or quickly dash towards or away from your opponent. Oh, and did I mention that the characters are in three different weight classes (light, middle, heavy)? Lighter characters attack and move around faster, but are more easily blown into walls.


The whole game is heavily anime-styled, as this screenshot demonstrates.

The usual gameplay modes are here: arcade mode, story mode, training mode, versus mode (human), versus mode (computer), and match mode, in which you watch matches between computer players. Story mode is the main gameplay mode and includes pre and post-fight dialogue between the fighters to explain why they're paired off against each other. Configurable options include difficulty, time, amount of rounds, field size, amount auto guard, and of course the layout of your controller.

The graphics aren't spectacular, but they're better than decent. The fighters themselves are fully 3D rendered yet still retain their 2D anime roots, much like the fighters in Power Stone. The backgrounds, which run the gamut from city skylines to sunsets to factories are nothing special and don't have any effect on gameplay, but they aren't full of distracting elements and serve their purpose well. The game also features some pretty cool special effects. Some of the more powerful psychic power attacks really look like they'd hurt.

Psychic Force's sound effects and music are OK, although a couple of the musical tracks (like the character selection screen music) may get on your nerves after awhile. The dialog isn't translated, but at least there's subtitles ala Soul Calibur. The interface isn't exactly the prettiest you'll ever see and it's a little odd that you need to use the triggers to select stages, but it's good enough.
The Bad

Story mode is a real yawner. And in case you're wondering, the end of that sentence got cutoff, she says "What on earth did you become a hunter for?" To which the dude replied something like "No matter, prepare to die!"

Psychic Force's gameplay is far from perfect. In fact, it's not very good at all. First of all, the fighting system is confusing and will require a large time investment to fully understand, let alone master. Even once you figure it out, it's still pretty hard to beat some of the AI opponents, and you'll soon find yourself playing Soul Calibur again instead of wasting any more time with trying to pull off psy pulses because Psychic Force just isn't that fun. In other words, the actual fighting system itself has a good amount of depth, but the actual game doesn't. So by the time you figure out how to play it properly, you'll probably be completely bored with it.

Other problems include aiming your psychic attacks, which can sometimes prove to be very frustrating. Most ESP attacks will go directly at your opponent, but if your finger slips a bit or you're facing a weird position (like straight up), you may have trouble controlling the direction of your attack. Also, it's very easy to juggle people against the walls because they freeze there.


In the end, Psychic Force isn't worth your time unless you absolutely NEED another fighting game.

Story mode is pretty lame. The dialog between matches is poorly translated and at times doesn't make any sense at all. Besides, story mode is exactly the same as arcade mode outside of these little chats. Yawn.

The camera isn't that bad, but still manages to freak out on occasion. You'll also notice some graphical glitches in the backgrounds of certain areas, such as wavy textures.
The Final Word
Looking for a great fighting game with anime-inspired characters and exciting unconventional gameplay? Then get Power Stone! Unless you're really desperate for another Dreamcast fighting game and are willing to spend a large amount of time just trying to figure out how to play properly, avoid Psychic Force. The game isn't horrible, but there's already a glut of fighters on the Dreamcast and a game as average as Psychic Force just doesn't cut the mustard.
Developer: Taito
Publisher: Acclaim
Genre: Fighting

Highs: Unconventional gameplay, good presentation.

Lows: Gameplay confusing and just not that good. Gets old quick, induces yawning.

Other: 1-2 players, VMU Compatible, Arcade Stick Compatible.

Final Score:

(out of a possible 10)
Visit this Game's Dreamcast Database Entry
Comments on this review? Mail Feedback.