Rainbow Six: Rogue Spear
The thinking man's FPS finds a good home on the DC - Review By Mr. Domino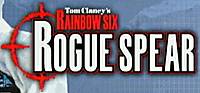 I'm a big fan (of average height) of Rainbow Six, the game that Tom Clancy didn't make but gets his name slapped on the box anyway. That's the way it always is, isn't it? Good for nothing authors take credit for games loosely based on books they've written. It's a shame, too, because it really should be known as Red Storm's Rainbow Six, otherwise known as the only FPS worth thinking about.
Do you think in Quake III Arena? Nah, you don't. You run and kill. No one really ever starts up a FPS thinking about what game plan he or she will execute to ensure a victory. One of the things which appeals to me about Rainbow Six is the realism and thought which goes into the gameplay. I really am that guy whose name I can't remember, following a well-devised plan to overtake a building or rescue some important looking 3D people. Unfortunately for its first incarnation, Rainbow Six proved to be a bit too much for the Dreamcast controller to handle. Who'd have thought that a single man could be more difficult to control than a fighter jet?
Thankfully, Rainbow Six: Rogue Spear has been released in the age of the Dreamcast mouse. The mouse, coupled with the keyboard (released a year ago in the age of the Dreamcast keyboard), finally allows console gamers to experience the unbridled realism and control for which the series is acclaimed. With more missions, weapons, characters, and a badly needed multiplayer mode, Rogue Spear appears to have what it takes to make a name for itself in console land... but is it enough?
The Good

The maps look pretty much just like they did on the PC.

The single greatest asset Rogue Spear has over the earlier Dreamcast release is mouse and keyboard support. As boring as that may sound, it alone qualifies as a class A miracle. Assign commands, instruct and switch between teams, select between four weapons, control your guy and more with one button ease via the Dreamcast keyboard while you aim like you've never aimed before with the mouse. Mouse supports greatly enhances targeting and navigating through the complex levels while the keyboard frees you from the archaic menu system the game forces you to use with the stock controller. This is good since it lets you enjoy the game the way it was meant to be played.

Gameplay is king with Rogue Spear. With 23 different missions, each different and more challenging than the last, there is plenty of variety to hone your tactical SWAT team skills. Increasing the difficulty will also add to the number of objectives which must be completed, making the second trip through a different and more challenging experience. Before tackling each of the missions you have to go through a gauntlet of planning screens where you assemble your team, outfit their gear, and plan their routes through the complex. Your CPU teams behave intelligently with some really smart AI, so directing up to seven other people at once never becomes a hindrance. Really, this game needs great CPU AI to work at all, and Rogue Spear has it in spades. You'll often be saved by your wingmen, although being careless too often will spell certain doom for your team and operation.


Not feeling up to a mission? Spend some time on a training course.

You can now peek around corners to avoid being picked off, and you will be careful because you will be scared. The game oozes atmosphere thanks to an abundance of great ambient sound effects and thrilling, nervous shots of music. Silence in Rogue Spear makes for some nerve wracking gaming, knowing that you can be taken out at anytime, anywhere, by anyone. The environments themselves are huge, which adds both to the level of realism and fear. I found the Kosovo level pretty disturbing myself, since this is the stuff I used to see on the news programs -- people killing each other in the silence of a wartorn town. It's just eerie. Your teammates' shouts of "Tango down!" and occasional, sparse bursts of gunfire also add greatly to the atmosphere and make Rogue Spear seem all the more real.

The animation of the characters is also excellent -- watch the intro and you'll see some of the best-choreographed puppets around. The Rainbow team, terrorists, and hostages all move and behave convincingly. It's not just the way they move, too, but also in the way they think. Hostages really appear to be terrified and helpless, terrorists are quick to react and shoot a hostage if startled, and the other Rainbow members' movements are carried out with striking realism. Everything Rogue Spear sets out to do it succeeds in. If you're looking for tactical action in a realistic setting, this is your game.
Next: The Bad, and The Final Word