Seaman
Sega's gone insane... and I like it - Review By Mad Carl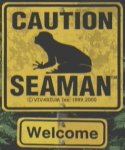 Any review of Seaman needs a bit of a preface to it. First and foremost, it must be understood right here and now that Seaman is not a game. It is an experience. I will not ruin that experience by divulging any of the twists and turns that take place during Seaman's lifetime. Sure, you know he's a fish with a head... and the road sign on the box shows a silhouette of a frog with a human head. That's all you need to know.
Seaman is a virtual friend/animal that's in your care. I hesitate to use the word pet, because pet somehow implies ownership on behalf of the human. You never really feel as if you own Seaman. It's more as if he is visiting inside your television for a few minutes each day. And that's the best way to experience Seaman: just a few minutes a day. This is not a game that you sit down and play for extended periods. This is a world that you check in on and help nurture along.
The Good

Say cheese.

I can't stress this enough: Seaman is like nothing else you've ever played on your Dreamcast (or any other platform, for that matter). It's so far out in the left field of game design, that I spent half a day just staring at my word processor, wondering how in the name of god I was ever going to review it. Seaman requires you to play each and every day. If you don't drop by to feed him, adjust the tank temperature and air supply, Seaman and his brethren will die. Therein lies the beauty of Seaman. Since you only have about two minutes worth of care taking to give each day, you can check in on his tank first thing in the morning, then again before you go to bed at night. There just isn't much to see if you sit there and stare at the screen for three hours. However, taking a few minutes to talk to Seaman and giving him some grub will not only entertain you, but will help Seaman evolve and move the entire experience along to the next stage -- all without sucking hours and hours out of your day.

The always cool Leonard Nimoy acts as the guide on your journey into Seaman's world. His voice greets you each time you boot up the Seaman disc, filling you in on the current state of your aquarium, and recapping recent events. Leonard will also point out upcoming evolutionary events to keep your eyes peeled for. If you're old enough to have ever seen the old Nimoy-narrated show In Search Of, then you'll enjoy his guidance even more. It's almost as if you're living through an episode of In Search Of Seaman. [NOTE: I don't know for sure, as the credits do not say, but there are times when Seaman sounds a bit like Leonard Nimoy's old co-worker, Mr. Sulu himself, George Freak'n Takei.]


What's going on here?

The Seaman experience is broken down into a long series of very obtuse logic puzzles. How do you get the egg to hatch? How do you get what comes out of the egg to turn into Seamen? How do you get those tiny critters to become the big fish on the box? And so on and so forth. There is never a clear objective at hand. It's usually more of a curiosity of the moment that leads you to the next step in Seaman's evolution. Case in point: the nautilus that lives in the tank before you even arrive. Discovering this creature's use is the key to first seeing Seaman. Then there's the giant rock in the back of the tank. From the moment I realized I could wiggle it, I would do so every so often. Eventually Seaman noticed and asked what I was doing, which led to a great series of questions from Seaman that had to be answered correctly if he was to help me solve the rock puzzle.

Seaman's evolution is incredibly well thought out. While the creature itself is fantastic and implausible, its life cycle seems perfectly realistic and makes you believe that this is a living, breathing animal you're dealing with. One of the best bits is how earthy and nasty the world of Seaman can get. There's blood and death and mating and survival of the fittest. This is nature, however weird and wondrous, on your TV screen.

Conversations with Seaman can get quite funky. I found that saying "Ask me a question" would tend to get him going. He asked me everything from when my birthday was to if I was married to what my favorite Dreamcast game was. Future conversations revolved around my wife and kids and if I was careful driving since I had said earlier that I enjoyed playing Crazy Taxi. Seaman also wished me happy birthday, and reminded me the day before my wife's birthday to get her something nice. Sometimes Seaman would wax philosophic about the state of humanity, happiness in the workplace, human reliance on technology and even if he was real or simply an imaginary video game character. The more you interact with Seaman, the more you get out of him and the faster he evolves.
Next: A bit more Good, The Bad and The Final Word