Sno-Cross Championship Racing
Maybe if you like snow... Maybe if you're not that bright... - Review By Mr. Domino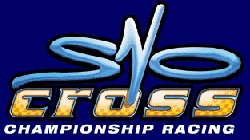 I'm a sucker for any game which allows some level of player creation, and the track editor in Sno-Cross Championship Racing lured, baited, and switched me like no other. "Surely, even if the game isn't all that great, I can have fun making my own courses and racing them!" I had not been disappointed with a Crave release yet, and although bringing over Super Magnetic Neo does come close, I had faith in the company.
Oh, but wait. I'm leading you into thinking this game is crap. Haha! No, I do not want you to think that just yet. Perhaps you are interested in a snowmobile racing for your Dreamcast and come here to see whether it's worth not buying or passing up. Maybe you're looking to pick up Sno-Cross because you're a rich Texan oilnaire looking to mindlessly blow your money away. Perhaps you're a self-conscious dung beetle...
Anyway, read on to see if Sno-Cross is the racer for you.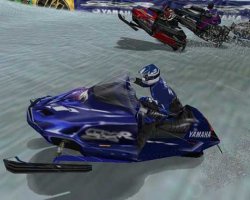 This picture is a wolf in sheep's clothing, that or a nice-ish picture of a lousy game.
The Good
Someone must think having licensed Yamaha snowmobiles is a good thing or else the company wouldn't have plastered the front cover with a splash sticker stating just that. Personally, I don't care, but I am impressed that Yamaha allowed the game to show its vehicles getting smashed and torn up as they ram into wall after wall around the courses. There are 12 snowmobiles to choose from although only four are selectable at start. In what is a mostly ugly game, the snowmobiles stand out as the crowning graphic achievement even though I can't say I'm really impressed by them. If one-sixteenth of the Dreamcast's power was used to make Sno-Cross, then surely a good 75% of that raw electronic muscle went into creating the vehicles. The attention to detail is really well down, from the suspension bouncing over the ground to the speedometer in the cockpit view accurately reflecting your current speed. Unfortunately, somewhat muddy textures keep the vehicles from looking their best, but they do animate convincingly and look nice. I suppose it's like finding a Pokemon sticker in gruel.

The game does attempt to rise above mediocrity, but the gruel is too slippery for the developers to claw their way out of the bowl of despair. (Doesn't that sound like a secret level in Gauntlet Legends? Maybe if Midway licensed a cereal; then the cereal could have a splash sticker on it: "Featuring Gauntlet Demons!") At any rate, the first "could have been good but other faults drag it down" item is the championship mode. As with most modern racing games, all tracks and vehicles are divided according to difficulty, with only the easiest grouping being playable until you can prove yourself and advance through the ranks. You earn points depending upon what place you finish, and although you only need to place third to advance to the next track, you must place first overall to win that championship.

The second decent thing is the game's track editor. It's very easy to use and offers a good variety of pieces, although the options are no where near as extensive as those in Re-Volt. You simply use the B button to toggle between the Track Piece and Track Edit section. The Track Piece contains 16 different tiles for you to select to bring over to the Track Edit grid to build your own course. You can also choose from two different types of scenery (forest and suburban), each which has its own kinds of tiles. I don't quite understand why the developer just didn't give players the full 32 or so tile variations to work with and adjust the graphics thereafter, but that's the way it is, stupid as it may be. You can store a limited number of tracks within the main save file, which is good cause it doesn't eat up your precious VMU space but also bad because it does limit the amount of tracks you can create and save. Courses can be rather large; I made one which took a bit over three minutes to complete a lap, which isn't bad at all.


Every once in a while the game spits out a white mess to indicate you're racing on snow.

Of course, Sno-Cross comes with built-in tracks, though you'll have to earn a few of them in the championship mode. While the tracks come across as rehashes of the one before, there are some nice touches. Some tracks have a neat looking ice patches which greatly affect the way the snowmobile handles as well as adding a nice visual affect and welcomed change to an otherwise snowed in game. You can even see a plane flying in the sky in the reflection, which is nice if trivial. Racing in rain or snow (the falling kind) really does have an impact on the way your vehicle performs, and any damage you take during the race has a noticeable impact on how the snowmobile handles. Too much damage to the skis and you'll find yourself drifting and losing control more easily, while an overheated engine will result in a slower race. While this realistic change of pace is a nice addition during the single races, it becomes a pain during the championship for reasons stated elsewhere, elsewhere being below.
The Bad
Something stinks in Stinktown, but the citizens are too busy gagging over Sno-Cross' graphics to notice. I can't believe Crave put this out. The most obvious bit of ugliness is the snow and the fact that it looks nothing like snow except for a passing resemblance to the color. Everything is flat. To simulate the softness of snow, the developers have put in an advanced clipping routine so that your snowmobile and rider will occasionally dip beneath the flat, lifeless snow textures to remind you that the concrete surface you're racing on is, in fact, snow. The riders themselves look like some poor first grader's attempt at shoe box art, especially on the winners stage at the end of each championship where you're treated to a step with three anonymous shoe boxes and a distant speckled audience of Sega Rally cut-outs. Although they bob around semi-convincingly while racing, they bob around semi-convincingly even in riding situations when they really shouldn't be moving like that.

When you're not bobbing around in some kind of snowmobile-induced orgy, your rider can do lame tricks to show off just how many pipe cleaners little Susie had to use to keep those boxes together like that. Each rider (well, the rider, since there's no selection) is capable of 11 tricks which vary from tapping your seat to lifting your hands off the bars for a moment. Yeah. Give me a chance for my heart to catch up. Here we can see the Tony Hawk influence gone terribly, terribly wrong. Two tricks can be done at any time, while the fancier stuff such as putting your hands behind your head requires that your snowmobile be airborne. It's almost funny, cause in the cockpit view, your rider's hands never leave the handles yet you're told that you just did a "relax" or other such crowd pleaser. I still don't see how anyone would pay to see these tricks. Really, if you want to see a guy touch his butt, just save your money and watch football instead.
Next: More Bad and The Final Word