Sonic Shuffle
Or, a prime example of why Sega should stick to making original games - Review By zerothreat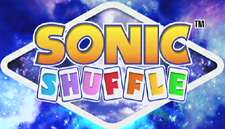 Sonic Shuffle, Sega's first entry into the party-game genre made popular by Nintendo's Mario Party, takes a successful formula and throws it into the Sonic the Hedgehog universe. The game supports up to 4 players at a time, and is geared heavily toward children. If nothing else, Sonic Shuffle's grab bag of board game play, card battles, mini games and cartoon visuals can keep a gang of otherwise rambunctious kids occupied for hours at a time. For some haggard parents, that fact alone might be worth the price of admission.
Sonic Shuffle's basic premise is simple. You can play as any one of eight Sonic Adventure characters, beginning with Sonic, Tails, Knuckles and Amy (players can unlock the others -- Big the Cat, E-102 Gamma, Super Sonic and a Chao -- in a separate portion of the game). The opening cutscene tells us our friends have been transported to "Maginaryworld," where they are asked by some fairy princess or other to collect a series of "precious stones," so on and so forth. Sonic and friends agree to embark on a quest for the precious stones, and then, after having been transported to the main game board, find themselves inexplicably combating one another to see who can collect the most. "Say, gang, let's cooperate! And let's beat the hell out of each other in the process!"
The Good

The game is pretty good-looking, we'll give it that.

Basic play throughout each of the five game boards is pretty straightforward. Sonic and pals draw cards from hands of seven, and then move a number of spaces corresponding to the value of each drawn card. Depending on where he lands, a player can collect rings, (which serve as currency for the purchase of force stones), have rings deducted from his cache, trigger a mini-game, or wind up in a card battle with some Pokemon-type character. Ultimately, the objective is to collect as many precious stones as possible.

Visually, the game is very attractive. Not ground breaking, but certainly attractive. The thick-lined cel shading on the characters immediately appeals to children, and helps distinguish the game from other Sonic titles. Technically, the effect works well, but doesn't seem as vibrant as it does in Jet Grind Radio or, for that matter, Wacky Races. It certainly doesn't look innovative anymore, which is why I feel only so-so about it. Still, it's fairly nice to look at.

The environments are presented in a simplistic, half-real/half-cartoon style, and support the characters comfortably. Stylistically, they're a little muddied, but still do the job. The game moves at a consistent frame rate of 30, which is only to be expected as there isn't much happening on the screen at any given time, and the battle-sequence enemies, although derivative, are angular and cool.

The use of cards rather than a simple roll of the dice works out well, as it permits flexibility and allows the formation of strategies. For example, at one point I found myself holding only a 1 card, a 2 card and a 5 card. I had a choice between two directions on the board, and to move 1 or 2 spaces in either direction would have resulted in a loss of rings, while moving 5 spaces would have resulted in either a battle with a monster or the triggering of a mini game.


A moment after we took this shot, Tails realized he was in space and violently imploded. Just another victim of the terrible secret of space.

As I didn't want to engage in a war-style card battle with only a 1 or 2 card at my disposal, I decided to take my chances in the mini game.

Incidentally, if you have a VMU installed, you can see your hand displayed on the VMU screen, keeping your cards secret from your human opponents. Also, through the use of a "special" card, you can swap cards with opponents, steal cards away from them, or move any number of spaces between 1 and 7, in which case the card behaves like a seven-sided die. Cards already played collect in a trash can, the contents of which are visible at all times, which helps players decide whether they want to risk stealing unseen cards from opponents.

Mini-games, as one might expect, make up a good-sized portion of Sonic Shuffle, and some of them are pretty decent. In one game, the player gets a chance to "roll around" opposing characters inside a toy labyrinth, as though his opponents were the little steel balls. In another game, all four opponents square off in a game of tag, which should bring out the child in just about anyone. (I had a lot of fun beating my kids at virtual tag, seeing as how I'm older now, and I know my kids would kick my ass in a game of real tag.) Anyway, the selection of mini-games contains a few delightful, easy-to-understand entries such as these. A few. We'll touch on this again a bit later.

As I mentioned, players can collect rings, which serve as currency in the "shop" (each game board contains 1 or 2 "shop" spaces) where players can purchase force stones. Force stones come in a variety of types, and serve as equalizing weapons in the battle to reach the precious stone. For example, some force stones allow the user to change places on the board with an opponent. Some prevent opponents from reaching the precious stone for a given number of turns, while others force opponents to use their force stones prematurely. A nice touch giving the game some balance, as it is often impossible for some players, given their board positions, to get anywhere near the precious stone via card moves alone.
Next: A bit more Good, The Bad, and The Final Word