Spirit of Speed 1937
A new low for racing games - Review By Mad Carl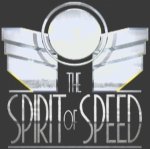 If there's one thing human beings love, it's speed. Almost every major event in our technological evolution has been about going faster, in one way or another. From the first wheel carved from stone to the first e-mail sent across an Ethernet cable, the focus of almost every useful invention has been to make your life quicker and easier -- allowing you to get more stuff done faster.
The automobile was different. When the car first hit the scene, it was much more a toy for the wealthy. It didn't go very fast or very far and it wasn't really useful for anything much beyond scaring horses. Yet, before you could say "Gentlemen, start your engines," people took to racing these new inventions. The more mechanically-inclined of those early racers found ways to make their cars move faster than the others. Within a few years, automobile racing had become an international pastime. The Germans dominated the field right up until World War II. The best tracks were in France, and some of the most foolhardy drivers came from that young upstart of a country known as the United States.
With each race, there were new innovations. There was a day and age when changing a tire was so complicated, it took almost twenty minutes from start to finish (well, for some of us, it still does -- but these are pit crews we're talking about here). Once upon a time, cars didn't have rearview mirrors, and nobody had ever heard of a "seatbelt". In these halcyon days, men were men and cars were little more than four wheels strapped to an internal combustion engine. These are the days of Spirit of Speed: 1937.
The Good

The interface is handsome.

First up, applause goes to the game's creators for coming up with a nice new idea for a racing game. The only other racer from this era that I can think of is Sierra's Grand Prix Legends, which was made exclusively for the PC. While SOS:1937 originated as a PC title, it's still a breath of fresh air for a console where crappy cart racers seem to be the order of the day. The racing genre (in fact, every genre) would be a better place if every new racing game to come down the pike were given as cool an angle as SOS:1937.

Another thing that must be mentioned is that SOS:1937 is priced at $19.99 at most retail stores. This is the first title for the Dreamcast that has been released at such a "bargain" price point. It will be interesting to see if the Dreamcast market ends up with the same "bargain" sub-market that the PC has been enjoying ever since Deer Hunter and Who Wants to be a Millionaire? came along.

The music on the main menu is kind of cool. Lots of trumpets and drums. Very 1930's. Also in the main menu, we get a very solid 1930's art deco feel. Since the back of the SOS:1937 jewel case promises that you will be able to "immerse yourself in the in-depth period detail, from authentic 1930's soundtrack to classic art deco styling," I felt it was important to note that this mission was accomplished.

Finally, the instruction manual is adequate, if uninspiring. However, it does contain a bit of history/trivia about each of the race tracks and cars in the game. Some of this stuff is fascinating reading if you know nothing of the history of auto racing.
The Bad

The game's not exactly pushing the Dreamcast's capabilities.

Part of me just wants to say "everything else" and be done with it. (I don't think that would cut it with my editor, though.) There's a reason this game's title can be broken down to the acronym "SOS": all you want to do the entire time it is on your television screen is cry out for help. Instead, I will tell you what evil lurks on this disc. Let's start at the beginning: Load times. These aren't just load times. These are Make a Trip to the Fridge Times. The simple act of loading the main menu can take nearly a minute. Then it's another near-minute to actually get into the game. I'm convinced that I spent far more time on the load screen than I did in-game. And after awhile, I was happy to see the load screen. As long as that little status bar was ticking along, it meant I didn't have to be looking at the horrible graphics.

Did I say horrible? I meant affront to God. If this had been a launch title on the Atari Jaguar, it might have been impressive. But in the year 2000? They're so bad that it should be reason enough to have Broadsword Interactive's game developer license revoked (if only there were some governing agency that could do such a thing). The colors are so mottled and nasty that everything looks flat and lifeless. Drivers look as if they are mannequins jammed inside soap box derby racers loosely modeled on cars of the 1930's. The framerate is well south of thirty, and revels in frequent dips into the low teens. Why this is, exactly, I can't quite determine. There's never much happening on screen, and the other cars barely have enough animation to make the wheels turn, much less look convincing. This is a serious oversight. I've seen these cars in action in documentary films, where they bounced and wobbled all over the place. Sure, your dashboard shakes while driving in first-person mode, but beyond that, nada.
Next: More Bad, and The Final Word