Test Drive V-Rally
Game over, yeah! - Review By Holy Hand Grenade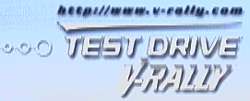 There hasn't been a better time in video game history to be a racing game fanatic. The number of quality racers already or soon to be available on the Dreamcast is simply staggering, considering it's only been a little over a year since the system's launch. Titles such as Sega Rally 2 and F355 have raised the bar in their respective racing sub-genres, and Metropolis Street Racer, Test Drive Le Mans, and Daytona USA are almost sure to do the same upon release.
Unfortunately though, it hasn't been all peaches and cream in racing land. Shortly after the Dreamcast launched, a game by the name of Test Drive 6 was released, and with its atrocious graphics and shoddy gameplay it proceeded to promptly obliterate any good karma the Test Drive name may have still possessed. Skip ahead one year to the present. Now, in the hope that the foul stench created by such rubbish has ceased to emit from the gaps around the Dreamcast's CD lid, developer Eden Studios and publisher Infogrames are ready to give the franchise another go with a new rally game entitled Test Drive V-Rally. Test Drive V-Rally (referred to as simply V-Rally from here on out) is an enhanced port of the Playstation game Need for Speed V-Rally 2, which saw release earlier this year. During the translation process, V-Rally gained crisper graphics, new tracks, and other niceties for its début on the Dreamcast. So, if you're curious to see whether the Test Drive anchor drags another title down to unmentionable depths or if V-Rally can shed the curse of its namesake and float on its own worth, read on.
The Good

Slippery.

The coolest thing about V-Rally is that its "Championship" mode is the closest Dreamcast gaming has come to accurately representing the real sport of rally racing. Blazing down ultra narrow roads... no, horse and buggy trails at 130 mph in a competition to reach a specific point (or specified number of laps) in the shortest amount of time is what rallying is all about. True to the sport, during each leg of the race it's just you against the clock without other competitors on the track to bother you (or aid you if you're the type that likes to refer to competitors as "turn buffers"), and race winners are awarded championship points. In standard championship style, after a certain number of races, the team with the most points wins. The role that car damage plays is an interesting gameplay twist exclusive to this mode. Throughout each leg of the race, the quality of your car's handling deteriorates with respect to how hard and/or poorly you drive it, and at the end of the leg you have the option to expend some race time to repair the broken necessities. This adds a welcome element of strategy for the races because it forces you to tread a fine line between driving on the edge and risk losing time due to extensive repairs. Thankfully, for those of you that aren't much into driving (carefully) by yourself, Eden Studios has included two other modes, "Arcade" and "V-Rally Trophy" both of which pit you against three real-time opponent racers (with very capable AI) and no car damage.

Eden set out to eliminate a major qualm gamers have had with racing games for ages now, that being a lack of tracks! V-Rally provides a whopping 80+ tracks for us navigate our way through with our rugged, overpowered chariots of speed (also known as "cars" to those of you not up on your grease monkey jargon). Tracks come in two fruity flavors, those being looped, a continuous racing circuit in which a specified number of laps needs to be completed, or point-to-point, wherein you must get from point A to point B in the fastest time possible. Each track is set in one of twelve different environmental settings all with their own road surfaces (that realistically affect handling), ranging from the snowy roads of the French Alps to the dusty trails of the Portugese deserts. Also, varying times of day and weather conditions diversify tracks that are set within the same environment, giving each a somewhat unique look and feel. Track designs range from pretty easy, wide lane strolls to bike trail width, twisty monsters that make Sega Rally 2's tracks feel like four lane expressways. There is enough variety in difficulty levels to please both newbies and hard-core racers alike. And if 80+ tracks isn't enough, there is also a fully featured track editor that enables users to create a seemingly infinite number of stages, limited only by imagination and VMU capacity. Overall the environments are pretty detailed with lush greenery, scattered small buildings, and ragged rock formations, all combining to give you a good sense of "being there" in nature. Cool little niceties such as scattering roadside bystanders, hang gliders, and helicopters also make appearances from time to time reminding you that there's more out there than just the wildlife.


The game usually maintains a smooth 60 fps. Usually.

Like track selection, albeit to a lesser scale, a healthy number of cars have also been included. Twenty-Six cars in total are available and are classified in four separate classes: 1.6L Kit-Cars (lightweight/low powered vehicles more akin to go-carts than race cars), 2.0L Kit-Cars (lightweight/medium powered vehicles), World Rally Cars (heavier/high powered puppies that really like to haul!), and Bonus Cars (yesteryear's racers that are unlocked after completing certain requirements). It's important to note that all twenty-six are licensed vehicles that have seen real life rally action at one point or another in racing history. A decent number of polygons covered with good-looking textures compose nice-looking representations of the vehicles, but the most impressive aspect of these models is the ability to view an animated driver and navigator through the transparent windows. Although this is not the first racer to have animated figures in the cockpit, it's still really cool to watch your driver during replays (or in the cockpit view) fight the wheel and work the shifter as they bounce and slide their way through the countryside. Eye candy, like cars getting progressively dirtier throughout the race, specular highlighting on the player's car body (only apparent during certain times of day and weather conditions), real-time collision body deformation, and dynamic lighting emitted from the player's headlights at night are other nice touches. While these are not the best vehicle models the Dreamcast has seen (check out F355 and Tokyo Extreme Racer 2 for the current state of the art in this area), they still do an above-adequate job of representing these fine racing specimens.

Unfortunately, with all the nice things V-Rally has to offer, the most important area of any game, gameplay, is sort of a mixed bag. I'll get into the ugly stuff in a bit, but here I'll keep it clean and just mention the redeeming qualities. For starters, V-Rally provides the greatest sense of speed of any racer in recent memory. Scenery whizzes by at an almost alarming rate in the out-of-car views, and changing to one of the three in-car-viewpoints only enhances this effect. Steering sensitivity using the analog stick proves to be nice and responsive, and allows players of all skill levels the opportunity to perform the precision "thread the needle" style driving required in a great number of tracks. The ever-looming danger of belly-upping your expensive piece of racing machinery and wasting precious time is a cool gameplay idea and it creates an element not found in Sega Rally 2...FEAR! It's exciting to have to concentrate on not only taking the best line through turns in terms of speed, but also in terms of safety. In anything but the beginner levels of each mode it's imperative to keep upright for as much of the race as possible, because the computer opponents are quite fast and will quickly leave you behind after you've started making mistakes.
Next: The Bad and The Final Word