Gamer's Choice: The Best Dreamcast Games of the Year
The votes are in. Here are the games YOU think are the best. - by PDC Staff and Readers The dust has cleared, and after some trepidation (but no run-ins with the Supreme Court, luckily) we now have the winners of the PlanetDreamcast Gamer's Choice Awards!
The competition was pretty stiff, but one game rose above the rest with a full 33 percent of the votes. That game is... no, I can't say yet. Other than that it was close, with second and third place garnering 16 percent and 14 percent, respectively. The three other games each scored around 10%, with 5% voting for "Other".
Now was that useless, or what? Let's get to the actual games, starting with third place...








Third Place:
Tony Hawk's Pro Skater 2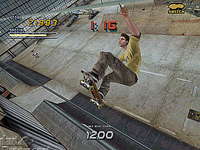 Endlessly replayable? If not, it's the closest they've come yet.

With its addictive gameplay and almost endless replay value, it's no mystery why Tony Hawk's Pro Skater 2 scored so highly with our readers. One Chris W. wrote, "THPS 2 Is my pick of game of the year for many reasons. It is the best skateboarding game of all time. It improved everything that was wrong with THPS 1 and has unlimited replay value with the park creator." This sentiment was shared by many. Steven H.: "This game kicks serious ass! Way better textures and resolution than the PS version (obviously) and the soundtrack is a punk fans' dream. The replay value alone is the sh!t. Basically: if you own a dreamcast, you should own this game." We wholeheartedly agree -- skateboarding doesn't get much cooler than this.

Other Interesting Reader Comments:

Anonymous: THPS2 Is even better then the original. Its got everything you could ever want. Im just wondering how they are going to make THPS3 any better then an already perfect game! (Smashing!)

BirddoG: Anything with spiderman is gold in my books! (You've never played Return of the Sinister Six, I hope.)

Mike E.: poo i only have a dc, sonic adventure, and one controller. not even a vmu. my brother got it for me and i cant afford anything to go with it. (..... right.)

Thomas B.: This game rocks!!!! So does your site. (Tom, your check is in the mail!)

Andrew E.: OMG SWEET! (Take your pills.)

The Unnamed: This was a really hard choice man i never had to make such a hard choice (You live an easy life, friend.)

Ben P.: i ate bacon today (See, it's not just the people who run this site that are odd...)

Right. Enough comments, you. Let's move on to second place, where we have...




Second Place:
Resident Evil: Code Veronica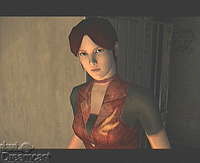 I have to admit, Claire is a cutey.

Resident Evil can be very hit or miss, you either like it or you don't. Obviously, a lot of our readers like it... a lot! Aspiring film major Andrew S: "The graphics, the gameplay, the music; everything in this game was the most like a true horror film such as Night of the Living Dead or Day of the Dead that I have ever experienced. Beautiful." The mysterious reader known only as Jeremy also appreciated the game's horrific overtones. "Resident Evil: Code Veronica is one of the most frightening experiences ever. I loved every minute of it." Sean E. put it a little more bluntly: "The best game ever released for DC! Scared the $hit out of me! :P"

Other Interesting Reader Comments:

Mr. C.: It's damn near impossible to choose between RE:CV and Skies of Arcadia. I think that in the end RE:CV wins primarily due to it's much more adult overtones. The series has always combined fear, action, and fun and Code Veronica may well be the pinnacle.

Rob T.: the best voice acting in an RE game to date, better in-game graphics than the CG rendered sequences, and very satisfying action sequences make this my favorite game on the dreamcast. however, i'm a big RE fan, having beaten RE2 at least 30 times. (Now that's dedication!)

Marc B.: My first dreamcast game in my first resident evil experience.... just too cool :D (Extra point for the happy smiley.)

Malte C.: PERFECT PAGE!!!!! (MAKE SENSE PLEASE!!!!!)

Knokubaxus: Zombie Killing Bliss!! (That would be a good name for a punk group.)

Bobby N.: It's not so much that I think the game is better, it's just I'm in love with Claire...ohhhhh Claire...... (Take a shower.)

Edward: CODE Veronica Baby...what else is there to say? (I dunno, maybe what you thought of the game? ;)

Evil the Cat: LONG LIVE RESIDENT EVIL! (I don't think it's alive.)

And finally... first place. The game that you love. The game that's gotten 33% of the popular vote. The game whose identity you probably guessed two seconds into this article, thus ruining all dramatic tension whatsoever. The game's that's called...

Next: What is it? What is it?