Tony Hawk's Slave Driver
All work and no fun make me something something... - Editorial By Mr. Domino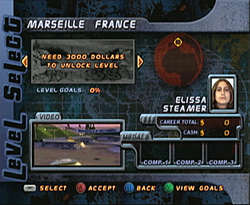 You'll die from exhaustion by the time you get to Skate Heaven in Tony Hawk's Pro Skater 2.
What did you do over the weekend? Skiing? Biking? Maybe some X-treme sport which combines aspects of both into a single reckless sport? It doesn't matter, because I can't hear you. I spent my weekend playing Tony Hawk's Pro Skater 2. I played not because I enjoyed playing the game, but because I had to play it. Unfortunately for me, Pro Skater 2 is one of many games which have stages/items/etc. locked out -- goodies which can only be earned through hours of work.
Yes, work. It's just not fun to be forced to do some repetive task to earn some trivial cheat or unlock some stage or character which should have been available from the beginning. If you really enjoyed doing pointless repetitive tasks, you'd get a real job. A game should be played because playing it just for the sake of playing is fun in and of itself. Yet more and more, game developers insist on putting us to work, and many gamers lap it up.
We had to play Soul Calibur on end to get a chance to play as characters and on stages not included in the initial lineup. We had to play Marvel vs. Capcom 2 for weeks just to unlock all of the hidden characters, levels, and costumes. We had to play Tony Hawk Pro Skater 2 just to get some cheats and a handful of extra characters and stages. Although a fairly new invention, we've already become so accustomed to this trend of games locking stuff out that many even look forward to it. For example, quite a few people were disappointed that Dead or Alive 2 had no hidden goodies -- the fact that it was just a great playing and looking fighting game didn't matter because there were no levels or characters hidden from the player.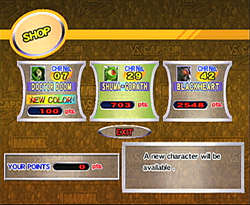 The ride never ends while trying to earn enough points in Marvel vs. Capcom 2.
Meanwhile, Soul Calibur got heaps of praise despite being ridiculously easy. Really, my cat could win the game, and she's never played a video game in her life. The single player mode is not interesting at all with the bad CPU AI and cheesy attacks. Namco could have fixed this by enhancing the AI to provide a suitable challenge, but, instead, release a bunch of monotonous quests for hidden trinkets. Does anyone still play those missions? I doubt it. You played just to unlock what was locked out. I've wasted countless hours of my life on the above mentioned games trying to unlock items.
Many call this depth -- that is, having to play a game for long periods of time and having the game bring out new stuff every so often. These people would say that it adds to the single player value because having single player quests gives the player incentive to play through a game repeatedly. The unlocked goodie is a prize for the accomplishment of playing through whatever quest the game presented to him or her.
These people do not know a thing about depth. Length does not equal depth. Depth is solely the result of interesting gameplay. No one has stopped playing chess because it lacks some hidden cheat or level. The game of chess has survived all these years because it is a genuinely interesting game and the game mechanics and rules make it an enjoyable and challenging experience. While I won't fault the above mentioned games for lacking worthy gameplay (they're all quite good), they do bring misguided notions of what longevity and depth are.
It's the depth of Tony Hawk's Pro Skater 2's gameplay which gives it longevity, not the other way around. While having to put in many hours of work to unlock Skate Heaven may have technically enhanced the game's longevity, the quests are not what keep me coming back to the game. I keep playing because it's an enjoyable game -- the mechanics of the gameplay make it interesting and worth revisiting. The fun of playing the game itself is its own reward. What a novel concept, eh? Too bad the game goes ahead and ruins it with far too many repetitive tasks.
So, while I wasted away my weekend to get to Skate Heaven, by the time I finished playing through the career mode to unlock the bonus stages, I wasn't really that interested in the game. All that work tired me out on the game. It's really not necessary, or it shouldn't be necessary.
What do you think? Am I off the mark or on the mark? What am I doing on Mark in the first place? Send your comments on this piece here. Mail Feedback.
Essential Links