Random Battles Must Die!
Or watch the FOX special, "When Everything Attacks!" - Editorial By Mr. Domino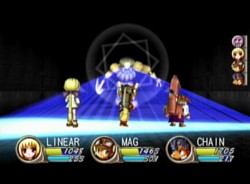 Evolution's great cast was enough to get me to play, but not really enjoy it.
HERO leaves home to buy food and takes three steps.
ELDERLY WOMAN attacks!
ELDERLY WOMAN casts SLOW!
HERO is slowed! Speed reduced by 2.
HERO attacks!
ELDERLY WOMAN suffers 13 HP!
ELDERLY WOMAN dies sooner than expected!
HERO earns 4 EXP!
Dentures you have found! HERO takes Dentures.
HERO continues walking for two seconds.
ALLEY CATS attack!
...
Read the above about twenty times. Would you go on with your life if every few steps you had some random enemy encounter? It's time consuming. Boring. Tedious. Mundane. Stupid. Monotonous. Spicy. No, wait. Scratch that last one. The point is that you would not want something so simple as a simple trip from point A to point B to be any spicier than it needs to be.
If my made up statistics are to be believed, then approximately 80% of the gaming population is over 18-years-old. (Margin of error: Uh, I don't know. Let's say plus or minus 5%. That sounds believable.) If you're over 18-years-old and did not attend public schooling, then it is also safe to say that you've survived long enough to graduate and are either in college or hold a job. Jobs take time. College, well, fluctuates. Time becomes more valuable. Not a tangible value like being able to return Barbie clothes to your Wal-Mart of choice, but more like a coupon's theoretical value. A coupon has value, usually like 1/20th of a cent, but you can't save up twenty coupons and exchange them for a penny. Likewise, you can't redeem time wasted from your life for cash.
So, you'd think that we would be less likely to encourage people to waste our precious, cute time. Think again (if you were thinking along those lines)! It would appear that people like having their lives wasted. After all, people play RPGs.
What's a RPG? It's an acronym for "role playing game," and although I can argue for hours that every game can be classified as a "RPG," that would defeat the purpose of this editorial and also be a waste of my own life, which really isn't that valuable but still.... We all have come to know a certain type of game to be a "RPG," those games which have a menu based combat system, a large point system, and enemies which grow in power by just changing their color.
Apparently, in the RPG world, enemies are always ready and willing to pop in front of our legally blind characters and attack them every few steps. They're like those survey people you find in malls but with a more violent streak. At least you can run from RPG enemies, but the too frequent encounters still make the constant interruptions annoying and a big fat waste of time.
In fact, much of what is standard in RPGs really counteract those reasons I play games to begin with. Time wasted leveling up my characters with boring unending enemy encounters could be better spent leveling up myself in the real world by joining a gym and fighting people. Instead of walking back and forth across a continent to deliver some person a comb, I should be able to FedEx the item after ordering it on-line from the comfort of my non-enemy-infested home. If I wanted to spend hours doing inventory, I'd get a real job. None of these aspects -- common in most every RPG -- are worthwhile on their own or really impact the experience in a favorable way. So, why do we play RPGs?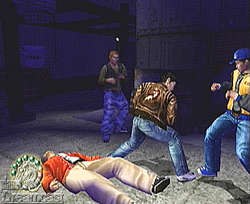 Is Shenmue the future of RPGs? Can sailor excursions replace materia quests?
We play RPGs for the story. RPGs are just interactive novels -- nothing more, nothing less. RPGs were never games to begin with. What hooks players on the games are the involved storylines -- you want to keep playing to find out what happened next. Does the bad guy die at the end? Will the hero and the girl who follows him for some reason admit they love each other? Plenty of other cliches I'm sure you know, but each RPG has its own way of telling its own story despite their presence. All the other junk is just thrown in to provide for the "game" aspect.
Still, I do usually enjoy the stories in such games, but all the work involved in watching the plot unfold is growing to be a pain. My solution would be to completely remove all random battles. It's not exactly a new thing. Strategy-RPG games have long had specific, plot oriented battles which were not only required real forethought to win but also avoided having combat interfere with the story progression beyond what was necessary. The genre could also take the Shenmue approach, making for an epic RPG-style story while making combat fun, quick, and/or limited. If a game must include random battles to appease the traditional RPG fanbase, then an option to turn off all combat in the game would be welcome.
Where's the challenge in that? Well, none, but where's the gameplay and challenge in most RPGs? Dying is a rarity, and challenge can always be overcome by simply leveling up. No skill there. RPG combat is a placebo for real gameplay. If there is no challenge, if no real skill is required to win, and if it does not contribute to the story in any way, then why bother having it in the first place? Skies of Arcadia has a really great cast and a neat story, but the random combat really does interfere with the plot and isn't interesting enough to make encounter after encounter worthwhile. Random battles must die!
Is combat really that big of a deal in RPGs? Would you buy an RPG game if it had no combat sequences, perhaps other than what was necessary to tell the story? Send your comments on this piece here. Mail Feedback.
Essential Links