Sega Classics: NiGHTS Into Dreams
Sonic Team's 1997 masterpiece is truly magical - by Tren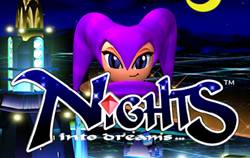 Stick your NiGHTS disc in a PC for more nice CG.

Whilst the Saturn proved to be a commercial flop in the West, thereís no denying that it was home to some of the best games ever designed, titles which no self-respecting game fan should be without. First and foremost on that list, at least in my opinion, is Segaís 1997 masterpiece NiGHTS Into Dreams. Meant to possibly start a franchise and save the Saturn, it did neither; it did, however, set new standards in creative and fun gameplay.

Despite glowing reviews out of Japan, initial impressions from Western importers were not favourable. In comparison to the then recently-released Mario64, many were disappointed. NiGHTS was seemingly just a short, side-on flying game with rails which didnít offer any proper flying freedom (like that found in Mario64), and served only as a demo for the Saturnís graphics chip! This assessment couldnít be further from the truth, though.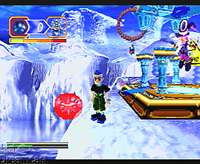 Say hi to Elliot -- he's looking a bit chilly here. NiGHTS waits on the right.

Before you can understand the gameplay mechanics, the storyline of NiGHTS must be explained, as itís as fascinating as everything else in the game. Claris and Elliot are two children that live in the city of Twin Seeds. Whilst neither child knows the other yet, the intro shows both asleep in their own homes, dreaming. Both dreams quickly turn to nightmares. The reason? In Nightopia, the world where our dreams are played out, an evil being known as Wizeman is gaining tremendous power. Wizeman is capturing the precious dream energy of humans. If allowed to continue, he will rise from the subconscious and enter our world, where no one could stop him.

The only hope for the world is an aerial Nightopian acrobat known as NiGHTS, thought to be the only grown Nightopian not yet under Wizemanís power. However, NiGHTS cannot collect the stolen dream energy alone. Wizeman is storing the four stolen dream energy types in large machine capsules, or Ideya. The four energies are white (representing purity), green (wisdom), yellow (hope) and blue (intelligence). Despite their crushing nightmares both Elliot and Claris have something in common, real courage, which is the fifth and most rare of the dream energies -- the very energy NiGHTS needs. Wizeman will attempt to steal Elliot and Clarisí dream energy and try to confuse them by placing them in strange dream worlds, developed from emotions in the depths of their mind. With the help of NiGHTS, the two children must collect the dream energy and thwart the plans of Wizeman to restore peace to Nightopia.

The game starts with you having access to just two dreams, Clarisí first dream (Spring Valley) and Elliotís first (Splash Garden). Now itís time to fight back and recover the dream energy. After you make your way to the Ideya Palace found in the centre of each dream world, NiGHTS meets you and begins the recovery of the energy. Whilst you have total freedom to explore each world as the child, when you reach NiGHTS the game takes on a side-on 2.5D form. You must fly through each of the four courses, recovering the dream energy in each. To do so you must collect 20 blue chips, found on each course, and use them to overload the Ideya Capture, releasing the dream energy back to the palace. For each course there is a specific time limit, in which you must free the dream energy and return to the palace. However, the quicker you release the dream energy the more points you get and the longer youíll have to fly around the course to rack up as many points as possible.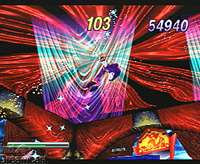 The backgrounds are absolutely stunning. Someone needs to create a Saturn gfx viewer so I can make 'em into desktops.

When you finish a course by returning to the Ideya Palace, youíre given a grade based on your final score. If you run out of time before returning to the Palace, then you become Elliot or Claris again and must finish overloading the ideya without NiGHTís help. Upon returning to the palace as either child you will begin the next course as NiGHTs again. Doing this, however, will guarantee you a poor grade so you must make sure you return to the Palace before the time limit expires. NiGHTS himself cannot die, and has no energy bar as such. Instead, getting hit by the ĎMinion Nightmarení found in the courses costs you 5 seconds which means less bonus time to rack up high scores. In this game, thatís a bigger penalty than you might think.

After all four courses of the dream have been completed you are given your current grade (an average of the four course grades) and score, and then move on to the Nightmaren (boss) that presides over that world. They arenít difficult to beat, but dispatching them quickly is the challenge. If you beat them fast enough then youíll earn a decent multiplication of your score, for example 100 seconds remaining could earn you a 2.0X multiplier, whereas only 45 seconds left would earn you a 1.2X or maybe only 1.1X. A good boss run could push a B-grade for the course up to an A, whereas if you fight the boss poorly you could have an A-grade knocked down to a B. Once your boss multiplier is determined, your final dream score and grade are displayed.

Once all three of the main dreams for both children are completed with at least a C grade, the 7th and final dream opens up. NiGHTS has been imprisoned by Wizeman, but the children seem to have gained enough courage to be able to fly themselves. Once this level is finished you get to take on Wizeman and put an end to his evil plans. All of this, whilst pretty confusing initially, will allow an average player to finish the game in an afternoon with all C grades. This isnít what NiGHTS is about though, finishing the game is only the beginning - as quaint as it may seem, the real soul of this game is trying for high scores.

Next: So erm... what's so great about it?