Sega Bass Fishing
This game kicks bass! - Review By Fragmaster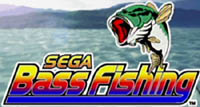 There's nothing quite like fishing. The big bulky boxes of lures that nobody really knows how to use, the dumb clothing, stupid hats, mosquitoes, slimy worms… not to mention the waiting. To some people, the waiting is the best part: time to relax and forget about all your troubles. To others, the "waiting" translates into mind-numbing boredom, a boredom so fierce and consuming that you'll probably miss the gentle tug on your line, fail to catch the fish you waited so long for, and break your fishing pole over your knee, vowing never again to waste time fishing as long as you live.
Thankfully, for those of you that don't feel like waking up at 4am and driving fifty miles to the nearest lake, getting your hands all oily with worm byproducts, and waiting for hours just to get your mitts on some ugly lookin' water dweller, there's Sega Bass Fishing.
The Good

Fishing in the morning never looked better.

Not surprisingly, Bass Fishing's graphics are great. The environments are beautifully rendered, the water looks good enough to bottle up and sell for obscene amounts of money, and the fish look better than the real things. There are turtles, frogs, and various types of underwater debris to populate the surroundings. Even the fisherman (and woman) look like real fishermen, except that they're a whole lot cleaner. The camera system works seamlessly, always giving a good view of the "action."

There are several different areas to fish in Bass Fishing, along with three different weather conditions (fine, cloudy, rainy), and three times of day (morning, noon, evening). Each area has different water temperatures, quantities of fish, depths, size, and layout. You can't navigate the areas a full 360 degrees, so you don't have complete freedom of where to fish, but there's still plenty of room.

Bass Fishing offers a couple of different gameplay modes, Arcade (just like the arcade version and easily solvable in under twenty minutes), Practice (just fish until the cows come home or it's time to go hunting), and Original. Original mode is the heart of the game, in which you create a player and enter them into four levels of tournaments. There's a pretty good amount of depth here and competing against top anglers quickly becomes pretty challenging.

So what's the actual fishing like? It's very simple, yet still somewhat realistic. Just select your lure, casting point, and fish away. Your triggers are used as the reels, and the analog stick is used for controlling your rod. Once you actually catch a fish, a gauge showing your line tension shows up. Reeling in small fish is a cakewalk, but you'll have to fight with the big ones. Reeling them in too fast can result in a broken line, and poor control over the fish can result in the hook coming off. Once you get the fish to your boat, you pull it out of the water and you're told of its weight and size. The control is great, even without the additional fishing controller, which offers even more realistic control and a chance to look like a complete dork in front of your friends.


Nice catch!

One of the game's best features is the in-game instruction, which tells you where to move your rod, what to do, as well as issue warnings on your line tension. This makes the game so easy to pick up that you can hand the controller to a complete novice, walk away, and come back to discover that they just broke your record catch on their third try. The fact you can easily play the game for just a couple of minutes or sit down in front of it for a couple of hours only adds to its appeal.

Bass Fishing has fourteen lures, but you only start out with six of them. As you progress through the game you'll receive additional "special lures." Each lure has different properties, such as usage depth and mannerisms. Some lures are only effective at a particular water depth, some are more difficult to use properly, and some must be reeled in a particular way. While it's pretty easy to figure out how to use a particular lure, failure to use them properly will result in the fish ignoring them due to their unrealistic movement. That being said, the fish "AI" is pretty darn good. Although I have no idea how a fish thinks or acts, they will ignore or turn away from bait if it jerks away suddenly or moves in a way inappropriate to that particular lure. Big fish (lurkers) are much cagier, and often need a little more enticing to catch. Smaller fish are much more aggressive (stupid) and will often dart in front of big fish to steal the bait. The time of day also effects how the fish act: it's easier to catch fish using surface lures on a cold morning than on a hot afternoon, when the fish will tend to head for cooler, deeper, and secluded waters.

The sound and music isn't too bad. While there isn't a whole bunch of sound and music to be had, what's there is adequate. Yeah, it's a little strange to hear guitar riffs after snagging a fish, but it's better than nothing.

The interface is great, the in-game menus and HUD is non-intrusive and well designed. You can always see your line distance, water temperature, remaining time, and fish weights with a quick glance. You can adjust options such as difficulty, time, and control.
The Bad

Come on! Bite it, you stupid fish!

Bass Fishing only has a couple minor problems, and one of them is that you can only fish for bass. Sure, adding additional fish to the mix probably wouldn't change things that much; it's not like fishing for trout would make the game a whole lot different, but still.

Secondly, there's the fact that the fishing line isn't all that realistic, as far as getting snagged or caught goes. It's impossible to get your line caught up in any sort of hazard, and at times you can clearly see the fishing line clipping through the actual fish. The line will even go through pier supports, and casts are always perfect. I can understand why this feature wasn't included, because it probably would have been hard to do and it does keep the frustration factor low, but it would have been nice to have this option.

The voice acting is borderline terrible. Even if you play as the female character, you'll get the same weird-ass voices (with the exception of the girl saying "Fish!" instead of the guy).

Saving your tournament progress eats up 50 blocks of VMU memory, which may be a bit excessive for those of you who only have one VMU and a lot of other games.

Finally, the game may get boring to some after extended play, especially after you win the tournament and all the lures are unlocked and mastered.
The Final Word
Surprisingly enough, Sega Bass Fishing is a fun game and worth a look to all but the most extreme fishing hater. The only question is whether to spring for the fishing controller. Hmmm…
Developer: Sega
Publisher: Sega
Genre: Sports

Highs: Great graphics, control, interface, easily the best console fishing game ever made.

Lows: Can't snag your line, minor graphical clipping problems, 50 block save, bad voice acting, may get boring.

Other: 1 player, VMU Compatible (requires fifty blocks for saving), Jump Pack Compatible, Fishing Controller Compatible.

Final Score:

(out of a possible 10)
Visit this Game's Dreamcast Database Entry
Comments on this review? Mail Feedback.