Samba de Amigo
Shake it, baby. - Review By Fargo

It was an instant curiousity -- a video game you controlled using a set of maracas! Everyone wanted to stop by and check it out. That's perhaps the Samba De Amigo's biggest appeal: It feels unlike any game you ever played. Just watching someone play makes you want to try it yourself -- a formula that's great in video arcades but not necessarily that important for a home system. Although you can play the game with the Dreamcast controller, it's not nearly as interesting that way and lacks any depth (we recommend Space Channel 5 instead) -- this review assumes you're going to go whole hog and buy at least one set of maracas with the game to get the full experience.
Here's how it works: Sensors on a floormat can read the height you're holding each of the two Dreamcast maracas. As the music plays, you keep your eyes on the game screen and the goal is to shake the maracas at the designated height in rhythm with the music. Every so often a "pose" icon will appear and you'll have to quickly hold the maracas in a certain position. The game reacts to your performance, so if you're doing well everyone on the screen is partying hard and bouncing all over the place, whereas when you're blowing it the sad little monkey mascot shakes his maracas quietly in the dark and cries.
There are a handful of game modes to choose from. If you've got no friends -- or an audience who's begging "you try it first!" -- there are several ways to play the game yourself, where you'll be scored on your performance alone. "Arcade" mode simulates the coin-up arcade, where you simply play one or two tunes, get a ranking on how well you did, and you're done. "Original" mode is identical to Arcade although you can play any of the tunes you may have unlocked while playing the rest of the game. In either mode, if you do poorly enough, the game ends early ("Stop the music!")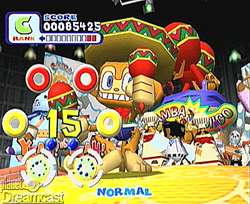 Go monkey go!

"Challenge" mode is like a giant ladder of challenges that you have to ascend, all the way to Maraca Godhood. They start out simple (complete a tune with an average "c" ranking or better) and as you complete each one they gradually get more difficult. As you complete challenges you'll unlock extra tunes and other goodies in the game (this was one of our favorite modes -- see below.)

If you've got some friends together, and ideally a second set of maracas, then multiplayer is the best way to get a room full of people to raise the roof (that and maybe some tequilla). Appropriately, multiplayer is called "Party" mode, and there are three options. "Couples" mode is a sure way to score with a romantic interest, provided he or she has rhythm -- both of you shake it to the same tune, and your lovenstuff is given a score based on how well you were in sync. "Battle" mode, on the other hand, is competitive. You and your opponent begin grooving to the same song, and as you hit the rhythm a giant old-fashioned bomb starts growing on your half of the screen. Fill the bomb all the way up and you'll fling it at your opponent, who will lose health Mortal-Kombat style. Don't screw up when your bomb is too big, or it'll blow up on your half of the screen and you'll take damage. Pretty straightforward, which is great, since it's easy to teach a group of people to play no matter how many margaritas they've been sucking down.

Finally, the "Minigames" mode has several small alternative ways to play. Instead of shaking maracas to the rhythm of a song, you might be playing a maraca-powered version of Whack-a-Mole (one of our favorites), or attempting to mimic the actions of the computer, simon-says style (shake left, shake left, shake right, POSE!) You can get ranked on each individual mini game or you can play through the full series (there are six in all) and get a total score, which you can rub in your opponent's face. Playing through the full series of minigames is enough to bust a sweat, and really gets the blood pumping.

That's the basic idea. So is Samba De Amigo worth the Maraca investment? Let's find out!

The Good
First and foremost, this game has a novelty factor that can't be beat. There are plenty of "dance" games on the market, but they involve either tapping your controller at the right time or stepping on floormat sensors with the rhythm -- neither "feels" like you're really getting your groove on. But Samba De Amigo is a party waiting to happen -- the Maraca controllers make noise when you shake 'em, and you're not penalized for any extra shaking. Basically, so long as you can master holding them at the right height, you can rock out and you'll indeed be playing along with the music. Here at GameSpy the good players invariably started shaking their hips in time with the beat.


When you start to do really well, the background suddenly gives way to this trippy vortex.

The Maraca controllers are also impressive technically (with a few hitches I'll go into later). At first it takes about five or ten minutes to understand how to hold them correctly -- instinctively you tend to tip the maracas as you shake them and the sensor will mis-read them. But once you get over the initial learning curve they're fairly responsive and very consistent. Before long you can concentrate on the music.

Speaking of music, the game has a lot of fun tracks. Now, musical taste varies widely from person to person, so you might love or hate the tunes -- but they're definitely great tracks for this type of game. They all had a readily identifiable dance beat and a lot of energy. Now, in the course of going from Japanese arcades to Japanese home systems to the rest of the world, a couple of years have elapsed, so the tunes are a little old. Tubthumping by Chumbawumba? Cup of Life by Rickey Martin? The Macarena!? Hardly cutting edge, but still a lot of fun. I especially appreciated a Ska remix of Aha's Take on Me and Soul Bassanova, which most of us recognize as the theme song from the Austin Powers movies.

The character design for Samba De Amigo is also fun. The whole game is bright and salsa-colored, and the characters that dance around are all unique -- from the monkey mascot to the weird bongo players to the sexy feline trumpeter who wears skin-tight leopard-print clothes. Everything about Samba De Amigo is a party ready to happen.

Finally, the game is unlocked through a series of progressively difficult challenges. As you complete each level you gradually unlock more music and features. On the whole the challenges are a lot of fun -- each time you open up a new one it seems impossible and yet somehow just within your grasp, keeping you at the machine to try "just one more time." A mini-game mode is also addictive, especially in multiplayer. Variants of "whack a mole" or "simon says" are available.

Yep, Samba De Amigo definitely draws crowds. Its biggest strength is the impact it has on large groups of people -- there the music, the characters, the antics of the players, and the noise of the maracas all combine to keep everyone's energy high. It's a great time.
Next: The Bad, and The Final Word