Space Channel 5
Musical mayhem you won't want to miss - Review By BenT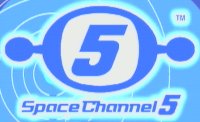 So-called "rhythm" games burst onto the gaming radar in 1997, with the release of Sony's highly innovative Parappa the Rapper. The game consisted of pressing buttons in time to music; if you did it well enough, you got to keep playing. There really wasn't much more to the game, as when you got down to it it was just a glorified game of Simon Says. Still, it managed to achieve memorability by virtue of its great character designs and hilariously nonsensical lyrics. The foundation was thus laid for the rhythm genre, but few have followed. Sony went on to make UmJammer Lammy and Vib Ribbon, but that's about all there's been so far.
Now, it's Sega's turn. Sega AM9's Tetsuya Mizuguchi wanted to create a game that captured the joy of dancing and wild movement onscreen, a game that would make the players want to get up and shake their own booty. Space Channel 5 was the ultimate result of this desire, and now it's finally been localized for the west. The premise of the game is that the nasty Morolians have taken over a space station in the 25th century, hypnotizing the inhabitants and forcing them to... well, dance. Yeah, dance. Nasty little bastards, aren't they? The station's only hope comes in the form of space reporter Ulala (ooh-la-la, get it?), the stunning host of Ulala's Swingin' Report Show. As Ulala, it's your job rescue the hostages and subdue the aliens in the only plausible way: by outdancing them.
Now, if you've never heard of this game, you're probably wondering two things at this point. First, "what the hell?", and second, "does it work?" To answer the first, I'd say just give 'em a break, they're Japanese. I mean, these are the people that came up with Vib Ribbon, Pokemon, and Tomagotchi -- 'nuff said. As for the second question... read on.
The Good

Meet Ulala. She is funky and has a tendancy toward revealing attire.

The best part about Space Channel 5 is that it just plain rocks, period. That's the best way I can think of to express it. Everything about the game blends into a near-perfect whole, which just about jumps out of the screen to smack you with its greatness.

The actual gameplay is extremely simple. The game is divided into four "reports", which are basically equivalent to levels. In each, Ulala appears on the scene and begins strutting about, soon encountering adversaries. "Let's dance!" she shouts. The enemies then blurt out sequences of up, right, left, down, and "chu", which means to hit one of two shooting buttons. (The first is for zapping Morolians, while the second is for rescuing hostages.) Once they stop, Ulala has to repeat their sequence with the exact same timing. If she screws up, her ratings go down, which is significant because they must exceed a certain minimum number by the end of the report if you are to continue in the game. So, that's it. Outdance aliens, rescue captives, and look funky. It may not sound like much, but there's a certain satisfaction that's derived from perfectly mimicking a complex chain of movements. Satisfaction also comes from the hordes of followers that can be amassed; every character you rescue joins your entourage, dancing in perfect sync with you.

In terms of aesthetics, Space Channel 5 has more originality and style than five other games combined. The character and set designs are absolutely incredible, using a retro-futuristic motif that must be seen to be believed. Everything looks like a perfect cross between Austin Powers and Buck Rogers. Rounded edges abound, and everything has a shiny, plasticy sheen to it. The characters sport a similar look, with neon colors aplenty and fashions that could best be described as "60's in space". This is truly something new that we've never seen before, which is unfortunately quite rare in the world of video games. AM9 should be commended for their attention to detail; if there were an award for production design excellence in a video game, Space Channel 5 would surely receive it.


Ah, there's nothing like amassing a horde of groupies.

The unique visuals are delivered in an equally novel manner: the characters are generated from real time polygons and placed over full motion video backdrops. Thankfully, the video is relatively crisp and mostly free of troublesome compression artifacts, allowing the game to showcase some of the most remarkable CG yet seen in a video game. The real time characters look good as well, with great lighting effects and smooth, smooth animation. The dance moves are a riot, and I'd love to see someone attempt them in real life. It's apparent, though, that Ulala has a good deal more polygons than the other characters, who tend to have somewhat blocky limbs. This is hardly an important problem, however, and doesn't really hinder the game's strong visual presentation.

Since the game centers around rhythm and beats, it follows that it had better have one heck of a soundtrack. As you've probably guessed, Space Channel 5's soundtrack delivers, and how! This is the coolest, smoothest, and outright funkiest collection of tunes yet featured in a Dreamcast game, and they fit the onscreen action like a glove. The sound quality is fab-u-lous, as Ulala might say, with plenty of screeching brass and thumping percussion. What's more, the music is dynamically altered depending on what happens in the game. Do poorly, and the trumpets start wailing in mournful despair. Rescue a keyboardist, and all of a sudden you've got cool electronic riffs in the background. Neat stuff. Taken as a whole, this is definitely soundtrack-worthy material, so hopefully Sega will get a hint and release the OST album in the west.

I'm happy to say that the voice acting is of similarly high quality. Bad voices are the number one element that could have ruined the Space Channel 5 experience, but Sega has delivered one of the best localization jobs we've ever seen. The voice of Ulala is provided by "live action anime girl" Apollo Smile, which made me apprehensive, to say the least. Surprisingly, Smile proves to be a very good choice for the role, imbuing Ulala with some sass and personality. Other characters are solid as well, with Ulala's manager Fuse being particularly noteworthy. Now, the collective quality of the voice acting still isn't quite up to feature film level, but it's safe to say that this is the best voice job yet done for the American Dreamcast.
Next: More Good, A Little Bad, and The Final Word