Speed Devils
"What seems to be the problem, officer?" - Review By Subskin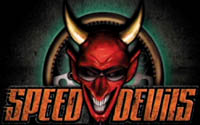 By Christmas, the Dreamcast will have about a dozen racing games available. The first DC racers were weak - Tokyo Extreme Racer didn't offer enough options, and TNN Hardcore Heat should be burned at the stake. The coming batch of racing games - Speed Devils, Sega Rally, Metropolis, and the distant Sega GT - is going to set the standard.
Speed Devils beat Sega Rally to the shelves by three weeks. With all the hype over Sega Rally, it's tempting to ignore Speed Devils and hold out for Rally's release. Don't. Speed Devils is a great arcade style racer, and deserves its day in court.
The Good

Speed Devil's track design is top-notch. You'll face dinosaurs, tornados, volcanoes, and more.

The graphics in Speed Devils are great. All eleven cars look realistic and unique. They have fake names but are obviously modeled after real cars, from a 70's Thunderbird to a 90's Geo Tracker. Each car also has around ten different skins to choose from, from subtle color changes to flower power paint schemes. The cars visually display damage with bent fenders, crumpled hoods, and broken headlights. As far as I can tell, the damage only goes so far; you can't total a car. I've accidentally fallen off the Grand Canyon and rammed a UFO in the same level; if that won't do it nothing will.

I didn't notice the sound effects or music until I started taking notes for this review. When I actually paid attention to them they were nothing special. The cars do have engine sounds and you can hear a bang when you ram a '57 Chevrolet at 170 miles per hour. The music is typical racing game hard rock, like it was pulled straight from a Van Damme movie. Basically, the sound in Speed Devils is vanilla ice cream: it's bland, but it doesn't really get on your nerves.

Unfortunately, I don't have a racing controller, but the standard DC controllers work just fine, anyway. The analog stick is an easy way to steer, and not as erratic as in Playstation's Gran Turismo. The L and R triggers are pretty easy to use for acceleration and braking, and the thumb buttons shift gears, handbrake, and kick in nitro.


Night racing in Speed Devils can be pretty tricky, as the somewhat realistic headlights limit your field of vision.

The tracks in Speed Devils are awesome. There are twelve tracks, including Hollywood, Canada, and Nevada. Time of day and weather do not simply affect traction in Speed Devils, the conditions drastically change the tracks. For example, in the summer Aspen has green wildlife, turned-off ski lifts, and a lakeside road. In the winter Aspen is covered in snow, the sky lifts are operating, and the frozen lake can be used as a shortcut. The obstacles - from the Jurassic Park dinosaurs at Universal Studios, Hollywood to an active volcano in Mexico - are detailed and allow for tons of inventive shortcuts. Ubi Soft has created the best tracks in any arcade racer to date.

Speed Devils also has a great deal of variety in game play. You earn money by winning a race (duh), but you also win it by making side bets with your competitors and bosses during the races. These range from passing a police speed trap at 150 miles per hour to making sure a competitor fails to finish in the top three. These extra "missions" add a touch of originality to the game, especially considering. Money can be used to buy new cars, upgrade your existing rig, or pay for repairs.

Multiplayer has a bit more depth than your typical console racer. There's your standard head to head race mode, of course, but Speed Devils also includes defend & attack, distance lag, time lag, and special challenge two-player modes. While none of these modes add anything significantly different to the gameplay, they can be a nice change of pace.

The interface is slick and easy to use, it's always easy to get to where you want to go. The in-game menus and HUD are pretty good too, allowing you to do things like restart a race or go back to the garage without causing any frustration.
The Bad

The movies in Speed Devils are pretty damn lame.

Speed Devils is Cruisin' World done much better (like Half-Life to Quake). For all the imagination on the tracks, you've still got a bunch of fake cars racing on tracks based on real locations. Still, Cruisin' World never did it this well.

The movies in Speed Devils are terrible. They are clips of the Speed Devils game reduced down to 2/3 screen size. They do nothing but show you grainy images in a format worse than the in-game racing. Although Speed Devils has seventeen non-player competitors (think Road Rash), they are only shown as still images. If Ubi Soft had used the full motion videos to show characters talking or different endings a la Twisted Metal, I might not skip past them after two seconds. This may be a minor problem, but believe me: those videos are worthless.

The worst part of Speed Devils is Sega Rally 2. Speed Devils was released October 30th, and Sega Rally 2 is expected on November 23rd. If Rally 2 lives up to the hype, it will bury Speed Devils.
The Final Word
If you only buy one racing game in 1999, buy Sega Rally 2. Still, give Speed Devils a run. Even if Rally 2 replaces Speed Devils as the best Dreamcast racer, the awesome tracks and simple fun will bring you back to Speed Devils again and again.
Developer: Ubi Soft
Publisher: Ubi Soft
Genre: Racing

Highs: Amazing track design, simple controls, Dreamcast graphics.

Lows: Lame MPEG videos, waiting for Sega Rally 2.

Other: 1-2 Players, VMU Compatible (for saving), VGA Card, Race Controller, Jump Pack Compatible.

Final Score:

(out of a possible 10)
Visit this Game's Dreamcast Database Entry
Comments on this review? Mail Feedback.