Voice Acting Sucks
Thanks, G. - Editorial By RaptoR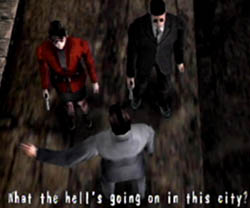 Hmm... I don't know, but maybe G does...
Ever since games found their way onto CDs, developers have been looking for a way to fill up all that extra space. And what better way than with voice recordings! But surely games had voice recordings before CDs? Well, yes. Games such as the recently infamous Zerowing included voice acting of sorts, but as you'll know if you've played the game, its lacking compared to today's games.
Everyone wants their games to be realistic, right? And voice acting may be able to add to that realism, but sadly some developers have absolutely no idea how to incorporate voices into a game. And even if they do, that's not the end of the story. Far too many games incorporate unrealistic voice acting that not only doesn't succeed in making the game more immersive, but also takes away from the game's graphics and other good features. My first example may be the worst... The House of the Dead 2 is probably the best Dreamcast shooter, but it's voice acting... On the surface it's a brilliant title, but look below the gore-coated surface and you'll see a game with voice acting that would make Zerowing's own Cats cringe. While most of the main characters sound reasonably realistic, some of the "guests'" voices are comparatively flawed. A classic example is in the third level of the game. If you save the fat guy driving the boat, he expresses his gratitude to you by saying... "thank YOU, I'll open the water gate for YOU". If you've got the game, listen to the quote - doesn't sound right, does it? This is what happens when you try and get Japanese actors to speak English.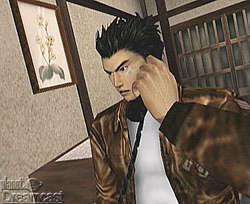 Umm, I'll call you back when we get some better voice actors...
HOTD2 also includes something which detracts from other parts of the game. It makes the mistake of repeating voice recording in different parts of the game. I can think of at least four different points throughout the game that the main character, James, says "How could anyone do this?".
Not all voice acting is bad, however. The Tomb Raider series, for all its flaws, has decent voice acting. The FMV movies and in-game cut-scenes sound fairly life-like, even if they don't look it.
Another great game which is slightly spoiled by its substandard voice-acting is Shenmue. Think Tom... "I'm aways chillin'"... argh! It should have been painfully obvious to AM2 that trying to mix a Japanese and Jamaican voices just wouldn't work. Some other character's speech just sound forced and unreal, especially the random people walking through various towns and cities. Voice acting is also one of Illbleed's many flaws. Speeches such as "I'm down with that" and "For real?" sound forced and out of place.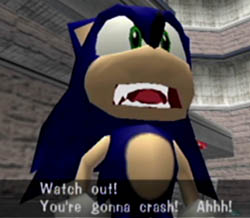 Anybody who's heard Sonic scream "Ahhh!" knows just how bad voice acting in games can be.
While Sonic Adventure's voice acting isn't the greatest you'll ever see in a Dreamcast title, its certainly superior to other title which could be mentioned. Each character has his or her carnoonish voice which suits the feel of the game. Some may say it's annoying, but less so than other games.
So what's the moral of the story? Voice acting, if it's used properly, can add to the realism of a game. Not only that, but it can also add to the depth of the storyline and develop a game's characters more than you might think possible. After all, if all the game's characters sound like Steven Hawking, then would you really want to struggle on to the next level where you'd be greeted by yet another character with an almost identical roboticly false voice? If the characters aren't enthusiastic about the game, then why should you be?
And finally, something of a personal message to RPG developers with regards to voice acting. Either get it right, or don't include it all. Even the daddy of all Dreamcast RPG's, Shenmue, falls down in this area. Oh, and please don't bring Tom back in Shenmue 2, unless you include Dreamcast gun support... >:)



Essential Links